How to make homemade guacamole. Know the tastiest recipe and its ingredients
I love preparing at home all kinds of sauces, condiments and appetizers because one of the great advantages is that we can give them our personal touch and that the result is to our liking , in addition to that we can make them with fresh and natural ingredients that will provide the best flavor.
This is the case with this recipe for homemade guacamole , a very tasty recipe to which I have a special affection because it is one of those recipes that always implies being in good company . It is the perfect aperitif or starter for when you invite a group of friends or simply want to enjoy with yours a refreshing, simple recipe and above all … scandal!
I must warn you that this guacamole recipe is a bit "my way" , it has evolved with me and I have finally come up with a combination that makes those who taste it ask "But how do you get this flavor? It has never turned out like this for me … » . There was a time during which I experimented a lot and finally stuck with this combination that I now share.
Other appetizers that I love to prepare and that are as I say "wetting" and exotic are the hummus or cream of chickpea puree that is delicious and the baba ganoush or cream of aubergines . Also in a creamy plan but within our most traditional gastronomy we find the delicious brandade of cod with green sauce and cod with ajoarriero or atascaburras . And if what you love is avocado and you want to make an ideal version for salads and pasta, much more liquid and light, prepare our green avocado sauce ?
Ingredients to make the homemade guacamole recipe
1 large ripe avocado (you should feel soft when touched still unpeeled) or 2 smaller ones.
The juice of half a lemon or lime.
6 drops of tabasco (and from there to where you have your limit!).
1/4 spring onion or onion.
1/2 green pepper.
A few sprigs of coriander (it is very typical to add it although there are those who cannot even see it so I consider it an optional ingredient).
A pinch of salt.
1 tablespoon of extra virgin olive oil.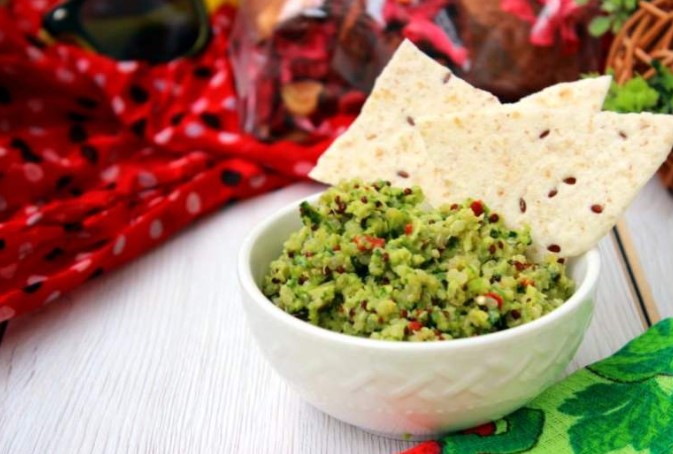 Of course, if your thing is to prepare a Mexican menu, write down our recipes among which you will find the Mexican burritos with minced meat and beans, the Mexican chicken and cheese quesadillas with vegetables and avocado or the simple ham and cheese quesadillas, the delicious one's chicken fajitas or this Mexican-inspired recipe, the sausages with beans and guacamole.
Preparation, how to make homemade guacamole with the tastiest recipe:
Peel the spring onion and chop it very finely. What I do is cut it first in half, then each half into thin slices, and then I chop those slices.
Wash the green pepper and chop it equally finely.
If you are going to use coriander, discard the branches and keep only the leaves. Chop them with a knife.
Cut the avocados in half, open them, remove the bone and with a soup spoon, extract all their meat, and put it in a bowl or deep plate.
Mash them with a fork as the ideal texture is lumpy.
Pour the lime or lemon juice on top and mix well so the avocados do not brown.
Add the chives, green pepper, coriander, salt, oil, and Tabasco to taste and mix everything together.
Of course, try it before storing it to adjust it for salt or spiciness if necessary.
Leave it in a covered container or cover the bowl with plastic wrap and let it rest in the fridge so that it is very cool when you go to consume it.
Time: 15 minutes
Difficulty: easy
Serve and taste:
Guacamole can be taken at room temperature and in hotter months I also usually serve it fresh out of the fridge. If you want to prepare it in advance there is no problem, I often do it from one day to the next because that way the chives are softer and the flavors are more integrated.
Place the guacamole in a bowl and accompany it with the nachos that you like the most , as an appetizer. Of course, you should know that guacamole is used in various dishes such as in the filling of Mexican fajitas, as a garnish or as if it were the sauce of hamburgers, mixed with salads … there are many ways to enjoy it, and it is always … scandal!
Some people prefer to blend everything with a hand mixer at the end . This option is ideal when you want to use it as a sauce accompanying a hamburger, some vegetables or a pasta dish for example, although to eat it with nachos I prefer the lumpy texture.
If you do not like spicy, do not add the tabasco and enjoy a very light and refreshing sauce, and if you like the touch of tomato you can add chopped natural tomato or even a tablespoon of tomato sauce, I assure you that it is great.
Tips:
Your guacamole recipe will be a success or not depending largely on the avocado you have selected. Make sure it's ripe enough (you can dig your fingers into its skin a bit before splitting it), and if it's not, keep it out of the fridge for a few days until it is. What I usually do is buy them whole and ripen at home in a few days, so my advice is that, if you do not have a good avocado, do not make this recipe because it will lose all grace and you may not even be able to mash it.
Tags:
guacamole
,
homemade guacamole
,
how to
,
How to make homemade guacamole