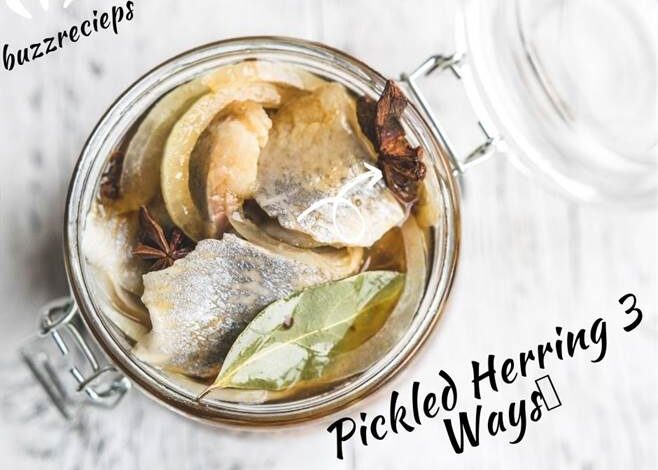 Discover our Pickled Herring recipe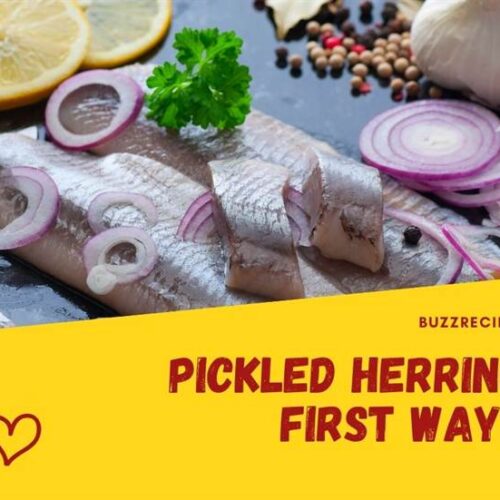 Pickled Herring Recipe Fisrt Way😁😁
Ingredients
8

Herring

1

vinegar

1

carrot

3

onions

3

cloves of garlic thyme

bay leaf parsley 5 sage leaves

peppercorns

salt
Instructions
Choose medium sized, milked or egged herring

Cut or leave the heads as you wish

Clean them, put the laitances back inside, place them in a deep dish going to the fire

In the vinegar, cook the marinade, the carrot and onions cut into rings, the garlic left whole, two or three sprigs of thyme, a small bay leaf, a small bunch of parsley, sage, 10 peppercorns, salt. Boil. When the carrot is cooked, the marinade is just right. Throw it boiling over the herring. Remove the parsley, thyme, garlic cloves. Put on the fire, poach without boiling

Keep the liquid simmering for 12 to 13 minutes

Let cool. Cover, refrigerate
Read Also : Air Fryer Brussels Sprouts Recipe🤩 🤩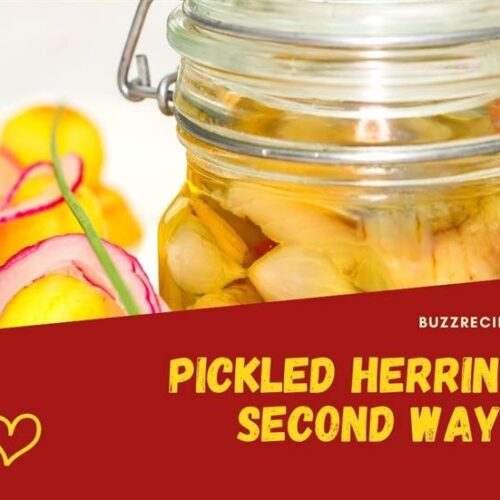 Pickled Herring Second Way👌
This Pickled Herring recipe is a timeless classic. We suggest in this recipe to marinate them with carrots, onions and pickles. Without forgetting the aromatic herbs such as thyme and bay leaf. This is an easy recipe that you can enjoy as a starter. Discover one of the many marinade recipes.
Ingredients
vinegar

8 vacuum packed herring fillets

some peppercorns

sunflower oil

1

bay leaf

rosemary

thyme

1

carrot

1

onion

12

pickles
Instructions
Place the herring in a deep dish. Peel the carrot and onion. Cut them into slices, the same for the pickles. Put everything on the herring fillets. Add the peppercorns, bay leaf, thyme and rosemary. Cover with oil and white wine vinegar to make your marinade. Cover with aluminum foil. Leave to marinate in the refrigerator for a few hours.

Once the fish fillets are well impregnated with the vegetables and herbs, enjoy them as a starter in a dish accompanied by hot steamed potatoes.
Notes
Tips
It is possible to make other versions of the Pickled Herring fillet. You can in this case accompany it with Malossol pickles and cloves for example. This marinade will also allow you to keep it in a jar while waiting to be tasted.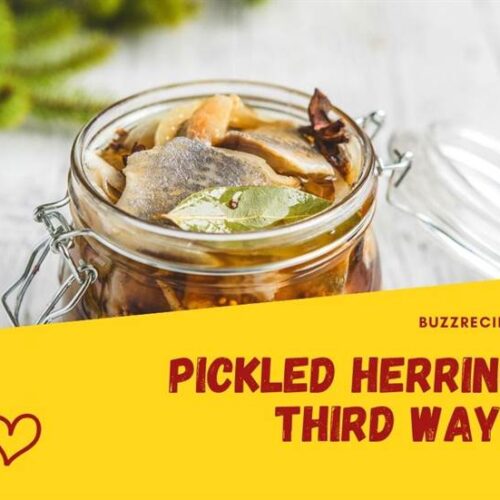 Pickled Herring Third way 😜😜
Fancy a fish dish? Then you will love our Pickled Herring recipe. Perfect for a fall evening.
Ingredients
12

FRESH HERRING FILLETS

2

CARROTS

2

ONIONS

2

SPRIGS OF THYME

1

BAY LEAF

30

CL

WHITE VINEGAR

1

TBSP

GROUND PEPPER

3

JUNIPER BERRIES
Instructions
The day before, peel and cut the carrots into slices. Peel and slice the onions. Pour the vinegar into a saucepan. Add the carrot rings, sliced ​​onions, thyme, bay leaf, peppercorns and juniper.

Bring to the boil and simmer for 20 minutes at a low simmer. Remove from the heat and strain the liquid. Reserve the garnish. Arrange the herring fillets in a terrine by putting them upside down and adding a few carrot and onion rings between each layer.

Pour the filtered liquid into the filled terrine and add the reserved garnish. Put the terrine on the fire and bring to a simmer. Leave to cook for 15 minutes and remove from the heat. Let cool before covering the terrine and refrigerating it for at least 12 hours.

The same day, serve chilled accompanied by a warm potato salad.
Check This Out : Pickled HERRING & Beetroot Salad | Bart's Fish Tales