Recipe with pinto beans
The pinto beans are a mainstay food of Mexican cuisine used daily to achieve different dishes, this time we'll show you step by step to prepare delicious pinto beans classics that are ideal for sharing with your family, and this recipe is very simple, fast, and economical to perform.
Recipe with Pinto Beans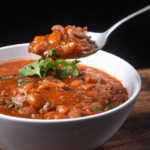 Recipe with pinto beans
600 grams of pinto beans
2.5 liters of water
1 tablespoon of oil
1 Avocado to taste in slices to accompany.
2 garlic cloves grated
2 red tomatoes
1 bell pepper onion.
2 chiles jalapeños
Salt to taste
½ cup of fresh coriander
We clean and wash the beans to remove all impurities, then we leave them in a container with water to hydrate for about two hours .

When they are hydrated, drain them and place them in a pot with the water over high heat, when boiling we reduce the heat , cover them and let them cook for 2 hours.

Meanwhile , finely chop the onion, tomatoes, pepper, and chilies and reserve.

After the beans are cooking time , we check them to see how soft they are and separate in a pan we add the oil and then one by one the previously chopped vegetables and the grated garlic so that they fry for 3 minutes.

Add the sauce to the pot with salt to taste, mix well to impregnate all the beans with flavor and boil for 15 minutes.

Finally, we remove the pot from the heat to let it rest a bit and serve the pinto beans, placing cilantro and avocado on top to enjoy at ease.
The most commonly used accompaniments to pinto beans are corn or flour tortillas, white rice, and toast.
If you want to give the beans more flavor, substitute the water for chicken or beef broth when cooking.
Other ingredients that add a lot of texture to this dish are carrots and celery, you can add them cut into squares when adding the other vegetables.
Read Also : Recipe for sticky chicken
Tags:
best pinto beans recipe
,
chicken recipes
,
mexican pinto beans
,
mexican pinto beans recipe
,
pinto beans
,
pinto beans recipe
,
recipes with pinto beans