Potato bake recipes: Recipes with baked potatoes always turn out well. The mixture of the roasted pulp with any filling or dressing that we put gives a good result. They are easy to make and very attractive. You can fill them with sobrasada, cheese, vegetables, bacon, mushrooms, egg … You can even make croquettes. Find your recipe among all these ideas!
With the very good potatoes that we have in Spain, it is normal for them to be present in many of our dishes, either as the main ingredient or as a garnish for protein dishes.
In any of the cases, it is a very versatile ingredient that can be used to fry, cook, prepare purees, salads, etc., but today we are going to focus on baked potato recipes, which are more in demand every day, as they tend to be Simple to prepare, they usually cook themselves while we can dedicate ourselves to other activities, such as preparing other dishes or any other task that the kitchen does not have to do at all.
These are colorful and inexpensive recipes that will bring great joy to your side dishes.
Read also: The best Vegan Mashed Potatoes
Baked potato recipes
If you are a potato lover, you will not know where to start. If so, it is best to try them all.
Potatoes with jacket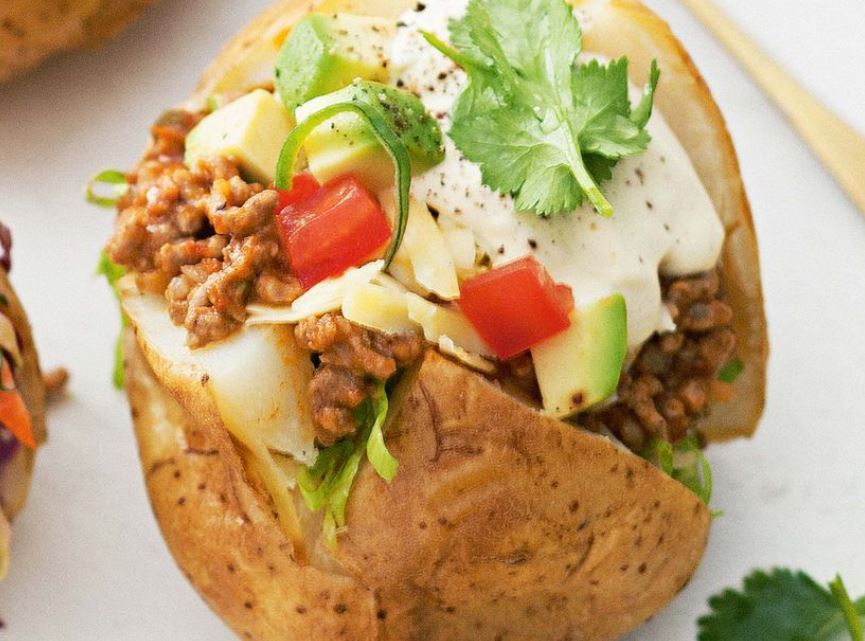 These oven-roasted potatoes are called jacket potatoes because they are eaten with the skin, they are eaten a lot in England, where they are as popular as fish and chips.
Hasselback potatoes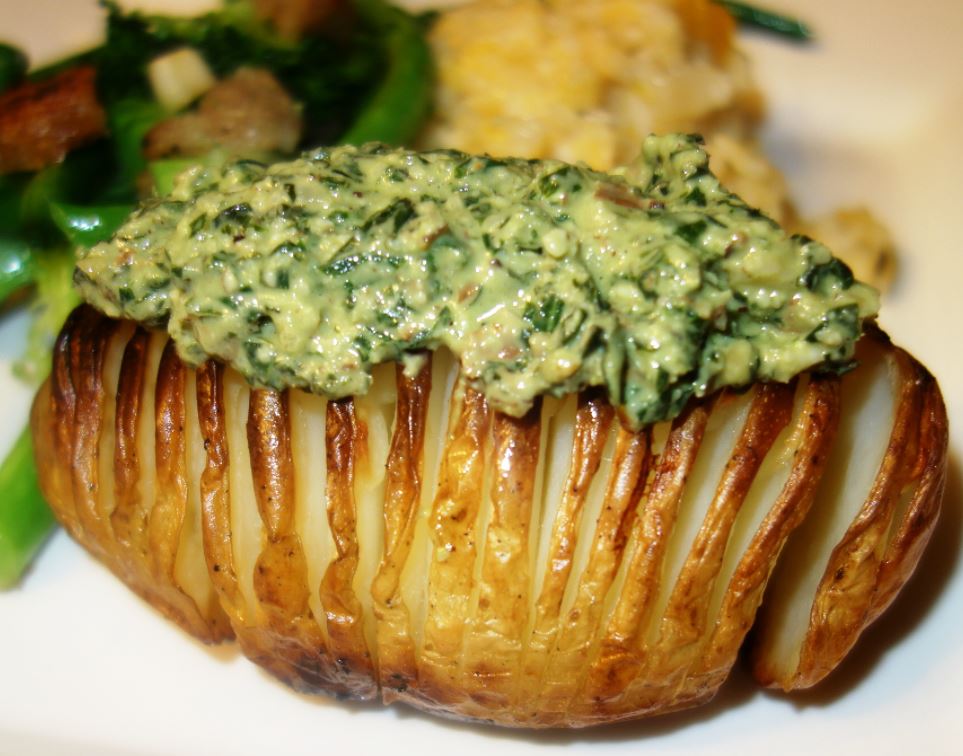 Much healthier than potato chips are baked potato chips, like traditional Hasselback potatoes, which are similar to chips, but without separating them from each other.
Hasselback style stuffed potatoes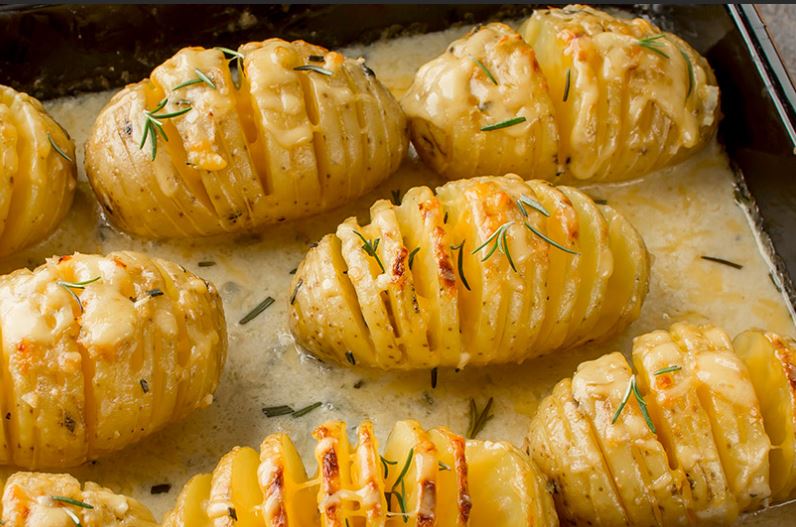 More robust are the Hasselback-style stuffed potatoes, inspired by the classic Hasselbacks, but with more substance thanks to the bacon and cheese filling.
Crispy baked potatoes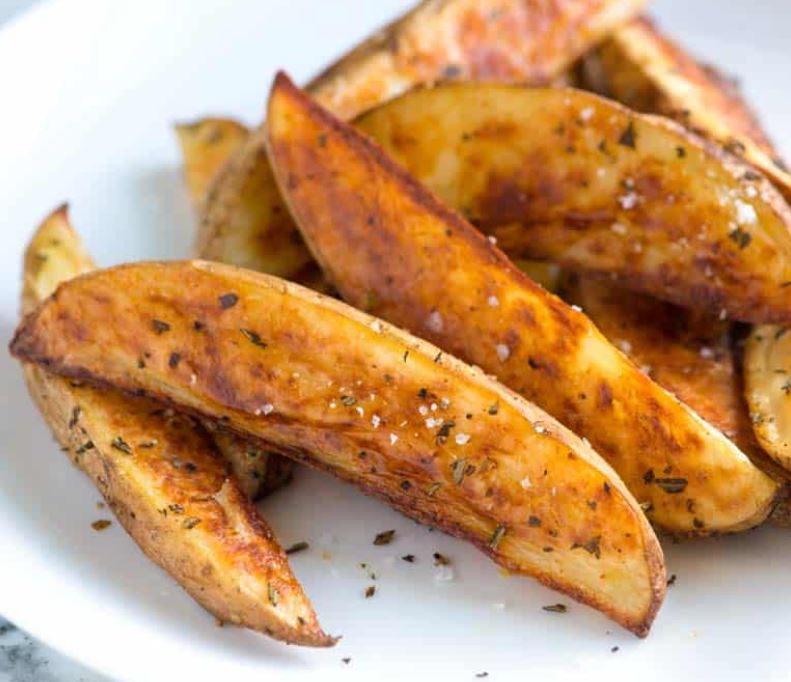 French fries may be the most popular garnish in our country especially for meat dishes and a good way to reduce the calories in these is to replace them with these crispy potatoes made in the oven.
Roasted potatoes garnish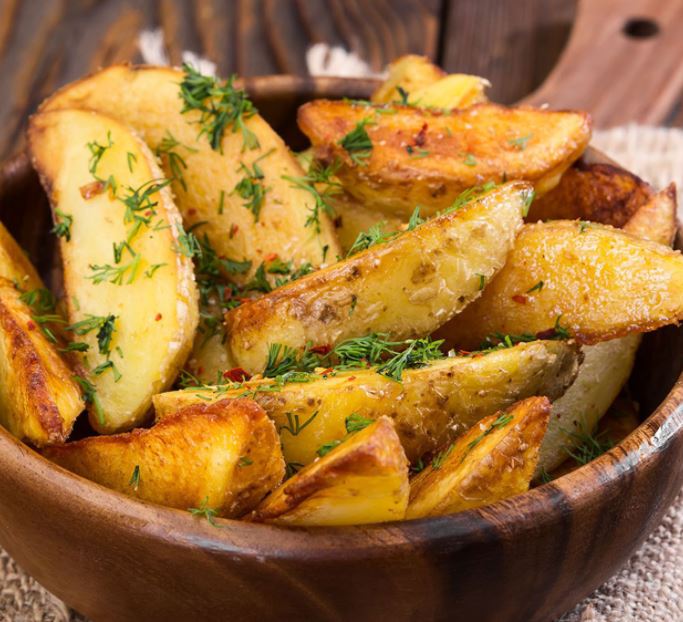 Another great way to roast potatoes for garnish is these potatoes roasted in halves, crispy on the outside and very tender on the inside.
Baked DeLuxe Potatoes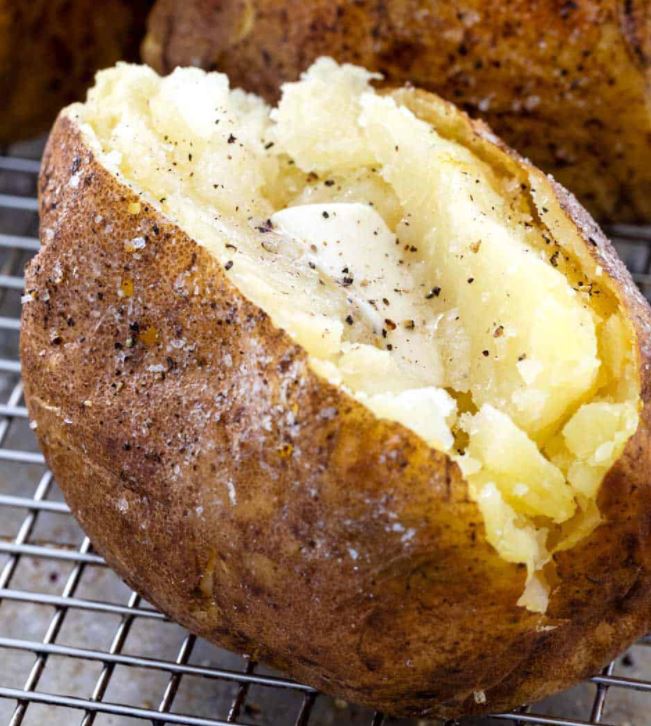 If you are a fan of the DeLuxe potatoes of that famous fast-food chain known for its hamburgers and its clown, you will love this recipe for homemade DeLuxe potatoes in the oven and without fat.
Baked potato pie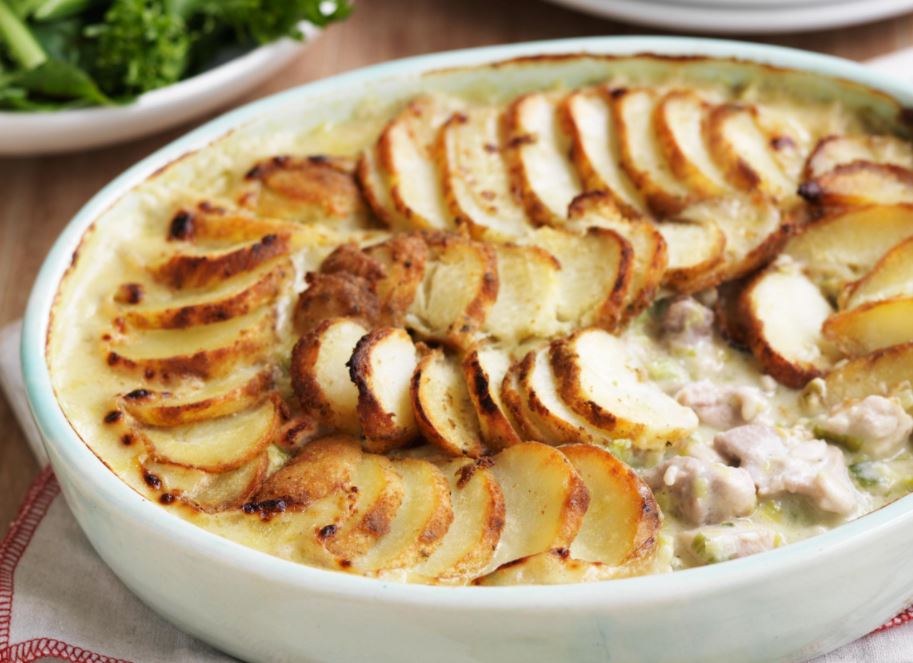 This potato pie can serve only as a side dish or as a main food accompanied by a salad as a garnish.
Duchess potatoes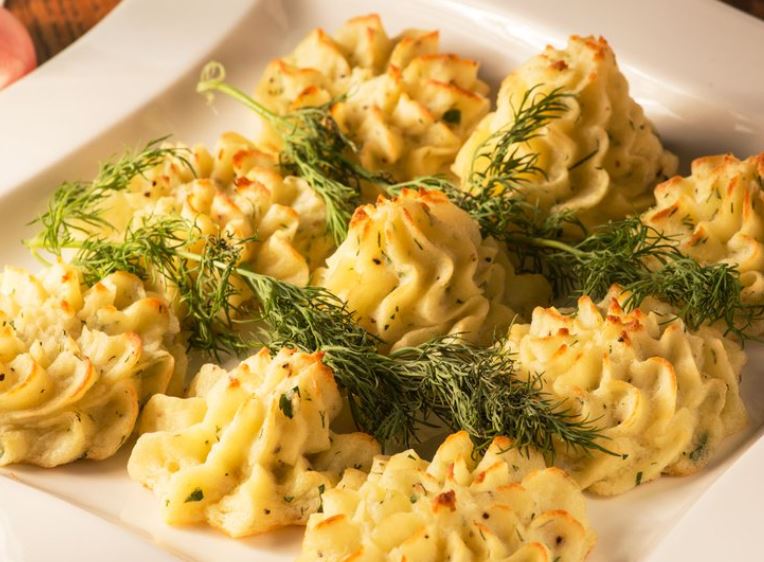 They are called Duquesa potatoes and consist of taking mashed potatoes one step further. The result is like a small cupcake with a crunchy crust and a very tender heart.
Potatoes stuffed with whatever you catch in the fridge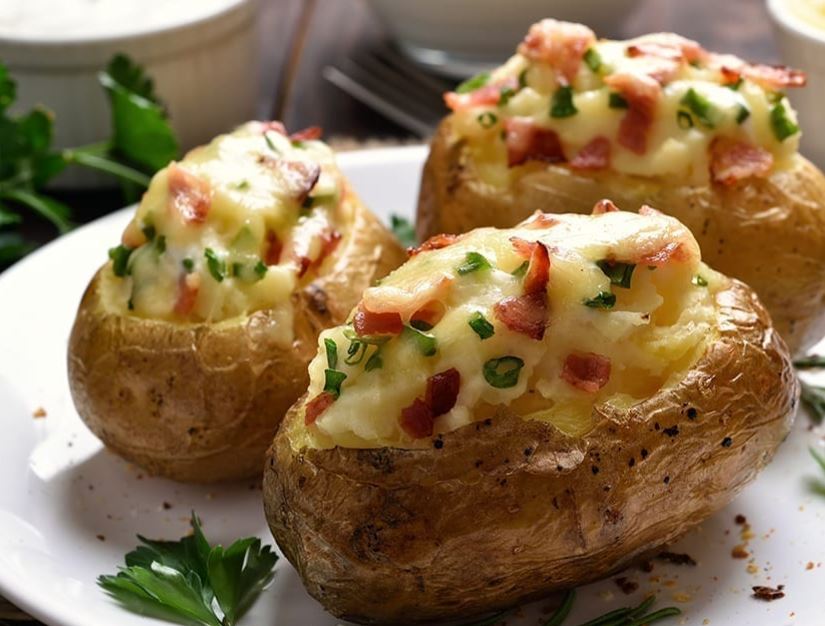 These stuffed potatoes are first cooked in their skins, then stuffed and finished in the oven. They are a great use recipe that with a good salad will solve a meal in which you will suck your fingers.
Potato gratin
I call them potato gratin, the recipe couldn't be simpler and they are a perfect garnish if you have guests. If you haven't tried them yet, I highly recommend that you give them a try. Although I like them so much that when I fancy I make them eat them even with a salad.
Foster's Hollywood Style Potatoes or Bacon & Cheese Fries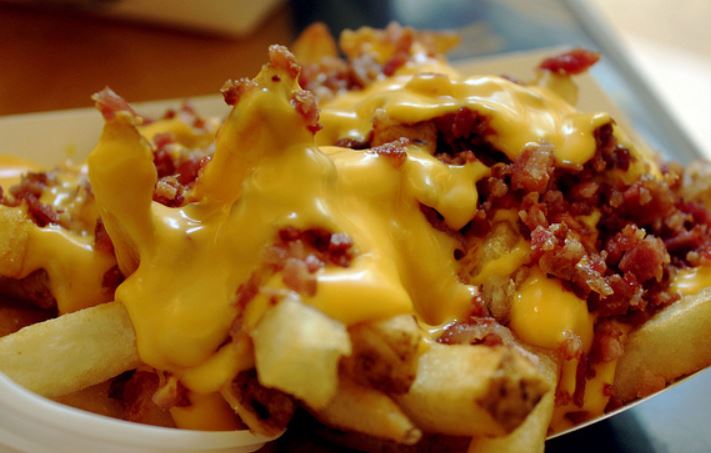 In almost all baked potato recipes we try not to exceed calories, but there are always exceptions that confirm the rule, as is the case with these Bacon Cheese Fries or Foster's style potatoes, which if you like them, you have to try this homemade version.
Homemade Spiced Baked or Roasted Potatoes
Ingredients
½ Kg of potatoes
Salt and freshly ground black pepper (to taste)
Extra virgin olive oil
Aromatic herbs (thyme, oregano, spearmint, basil, Provencal herbs)
A bunch of fresh parsley (if possible)
A pinch of sweet paprika from La Vera
How to prepare roast potatoes. Potatoes are perhaps the most used accompaniment in our dishes. Gastronomically speaking, a potato is good for everything, fried they are exceptional, roasted they are perfect and to cook, glorious.
In the blog, you can find several sides that are successful, especially the Hasselback potatoes and the traditional potatoes to the importance. All of them with the potatoes that my father grows in his garden, in it you have two varieties of potato, the one I like the most is the Kennebec variety. It is the one that I usually use as an all-terrain potato, as in today's recipe.
Before grilling. Preparation of the potatoes
We preheat the oven to 180º C with heat up and down.
We spread the oven plate or the container that we prefer with olive oil.
We wash the unpeeled potatoes, rubbing them well to remove all traces of earth. We cut them lengthwise and add salt. We season them with black pepper or paprika.
We add the aromatic herbs that we prefer. We have made a few of each type; In the variety is the spice. This time we have prepared them with dry spices except for parsley, but if we have them fresh, much better.
We place them on the baking sheet with the skin facing up, so that the side with the spices is impregnated in the oil.
Baking the roast potatoes. Final presentation
Put in the oven at 180º C with heat up and down (with air if you have it) in the middle tray. We bake for 25-35 minutes (it depends on the size of the potatoes).
As they cook, we see how the skin wrinkles a little. We check that they are ready by pricking them with a toothpick. Their skin is crispy and they come off the plate without resistance.
We serve with one of your favorite sauces, for example mayonnaise or a good aioli or garlic oil , even with a little butter and let it melt. (It makes my mouth water just imagining it). The result is really attractive and very appetizing.
One more within the infinite possibilities of preparation, a healthy recipe, a sure and healthy success result that accompanies any type of dish: meat, fish, eggs, etc … They can also be taken as an aperitif any day at home with a beer.
You can see all the photos of the step by step in recipe for roasted potatoes. Do not miss any detail and they will come out perfect.
Tips for some yummy roast potatoes
We can prepare them a little in advance and keep them warm in the oven off covered with silver foil so that they dry out. These potatoes still taste great the next day if we reheat them, so they can be very comfortable. They won't be crispy, but they are still very good.
Eloisa Mallach tells me on Facebook: «I make them open like this, I make some squares with the knife and put them, salt, extra virgin olive oil, paprika from La Vera and when they are on the table garlic-oil. Here in Valencia they were formerly called ¡¡Chuletas de la huerta !! »
In some cases I have told you that I prepare them in the microwave, you can and the result is similar but not the same. If you do not have much time, you will shorten the recipe to about 25 minutes but it will be a touch more cooked than roasted. This already depends on each one, who has to value the time and desire that they have. One way or another, yummy!
If you liked the post-potato bake recipes you can share it on your favorite social networks (Twitter, Facebook, etc.…), ← you have different icons to click. Every day there will be new recipes and tricks for you, Follow us on Facebook @buzzrecipes12ShareShare