Best Chocolate Chip CookiesIf I tell you that I have the best recipe for making chocolate chip cookies, what would you say? I bet you would yell at me, "I want her now!" As I am a good person, here is a recipe for you to take into account, pay attention and take note!
When searching for a recipe for chocolate chip cookies, Google returns 223 million results, incredible but true. That means that by publishing this post I will be literally contributing my grain of sand, one more recipe … but not just anyone.
I witness how they mark a before and after in those who try it. The first thing that strikes is its size, 6 ounces of pure happiness. Then its texture, crispy on the outside and soft on the inside. The best thing is that achieving this prodigy is easier than you think.
Very Important Tips for Perfect Chocolate Chip Cookies
If you are looking for chubby cookies use cold butter from the fridge. Never room temperature and much less melted.
Use two different types of sugar. Brown sugar will add moisture and white sugar will give you the crunchiness.
To make them soft, be careful not to overdo the dough once you add the flour.
You toast the walnuts before mixing them into the dough.
Let the dough rest in the fridge for at least 30 minutes before baking.
My cookies are generous, they don't skimp on anything. They are designed for sharing and that makes them even more special.
As a final note, I tell you that my perfect chocolate chip cookies were also ideal for the exercises of my photography and culinary styling course. This is a tower of pure happiness!4.16 out of 311 votes
read also:The best Good Old Fashioned Pancakes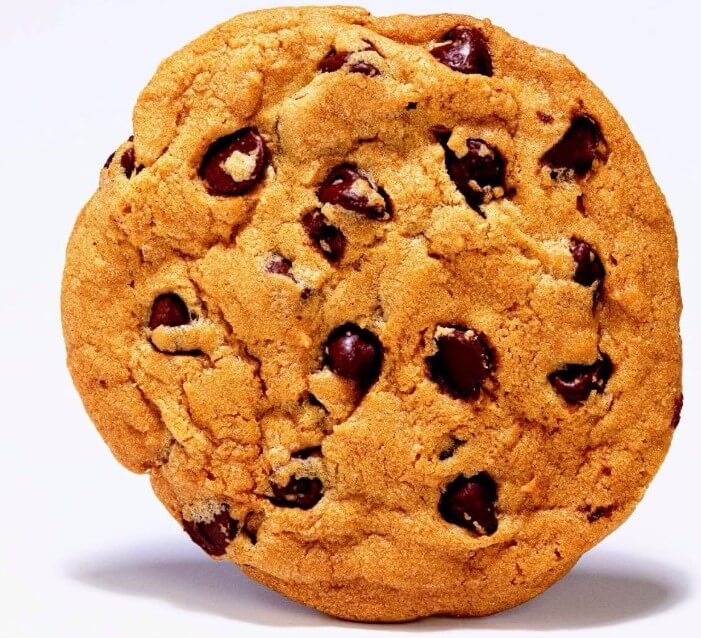 They are my version of the famous New York cookies from Levain Bakery. They are chubby, full of chocolate chips and crispy on the outside. 6 ounces of maximum happiness. Course: DessertsCuisine: AmericanKeywords: chocolate chips, chocolate chips, cookies, biscuits, levain bakery, snack, dessertsServings : 10 servingsCalories : 350 kcalIngredients
1 cup cold butter, diced (224 g)
1 cup brown sugar
1/2 cup white sugar
2 eggs
3 cups all-purpose flour
1 tsp cornstarch
1 tsp baking soda
1 tsp salt
2 cups roasted and chopped walnuts
2 cups of chocolate chips
Instructions
Preheat oven to 375 F.
In a bowl mix the flour with the cornstarch, the baking soda and the salt. Reserve
Beat butter and sugar for 5 minutes or until mixture looks creamy and integrated.
Add the eggs one at a time and beat until they are integrated with the mixture.
Incorporate the flour, beat at minimum speed, only until the flour is integrated into the mixture. Be careful not to overdo the dough.
Add the nuts and the chocolate chips, at this stage it is preferable to mix by hand.
Forms 6-ounce or 170-gram balls each. Refrigerate the dough for at least 30 minutes before baking. You can wrap each one with plastic wrap or wrapping paper and freeze them. In this case, you can then take them straight from the freezer to the oven, it will only take 2 or 3 more minutes of baking for them to be ready.
Bake for 17-20 minutes or until golden. Watch your cookies from minute 17, since each oven is different.
Let it rest for 10 minutes and enjoy !!!!
did you know:The best Yogurt-Marinated Chicken Shawarma
Chip cookies are delicious to eat anytime. Do not hesitate to prepare them with the variants that you like the most to experience new flavors, listen to me! Cooking is an art and the combinations can be endless.
Get inspired with these 7 dessert ideas you can make with chocolate chip cookies
1. Chocolate chip cookies and marshmallows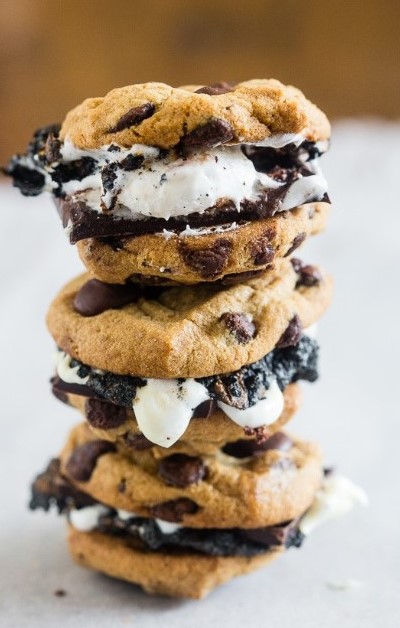 Very easy and rich. Marshmallows can be added to many recipes, and this combination is one of the best. Place a couple of marshmallows and a square of a chocolate bar between two cookies, melt it in the oven and you already have a delicious sweet snack.
2. Chocolate roll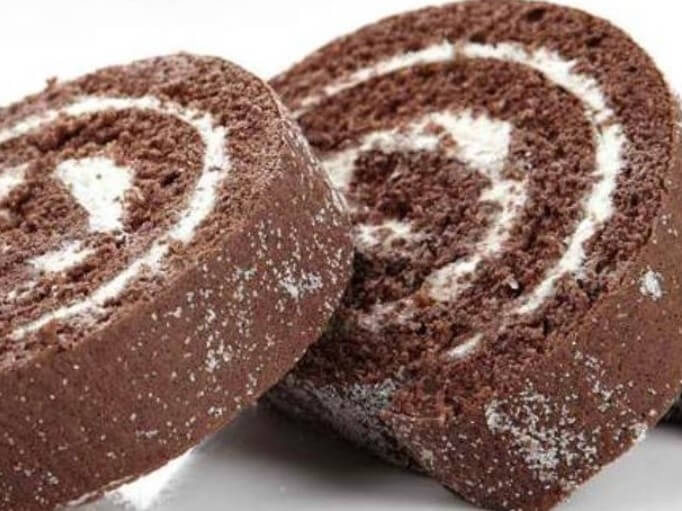 Delicious, and you don't need to use the oven. A little chocolate and butter, and you achieve a delicious combination. You can add endless ingredients and decoration, anyway it will be very rich.
3. Mini ice cream sandwich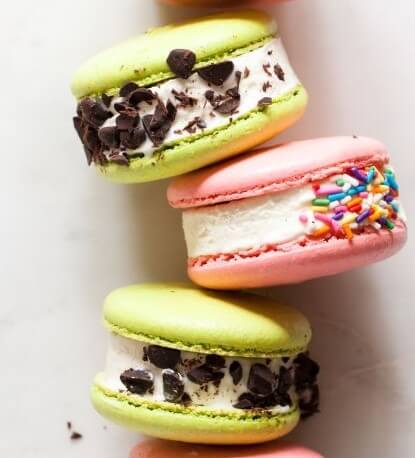 If you have some ice cream in the freezer that bored you and you are not going to eat, this idea is for you. Take advantage of that ice cream and make some delicious mini ice cream sandwiches with Maria cookies. They have no waste!
4. Cream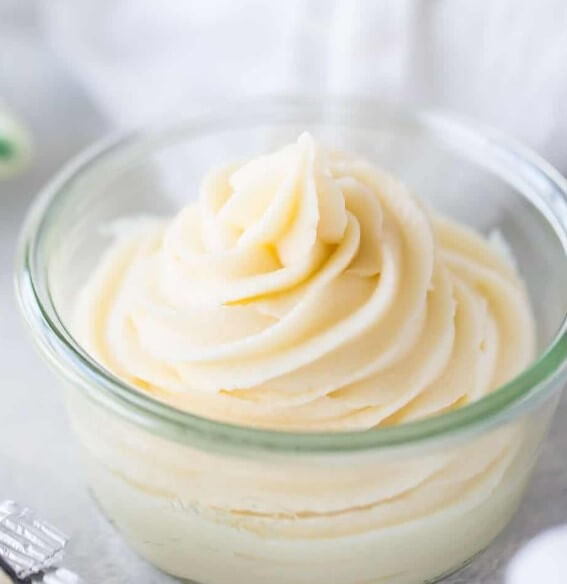 It is an ideal and very light dessert, as well as simple. You can also use this cream to replace yogurt. With a little milk, dulce de leche and heavy cream you will get a spectacular result.
5. Biscuit balls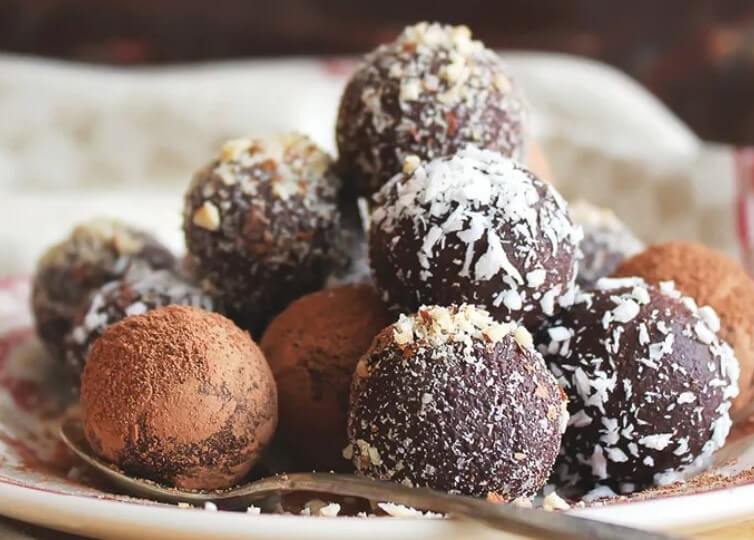 Surely you never imagined these truffles or balls made of Maria cookies. They are very tasty! Just mix the cookies with condensed milk, then you can add grated coconut, chocolate chips, and whatever you like best.
6. Chocolate cake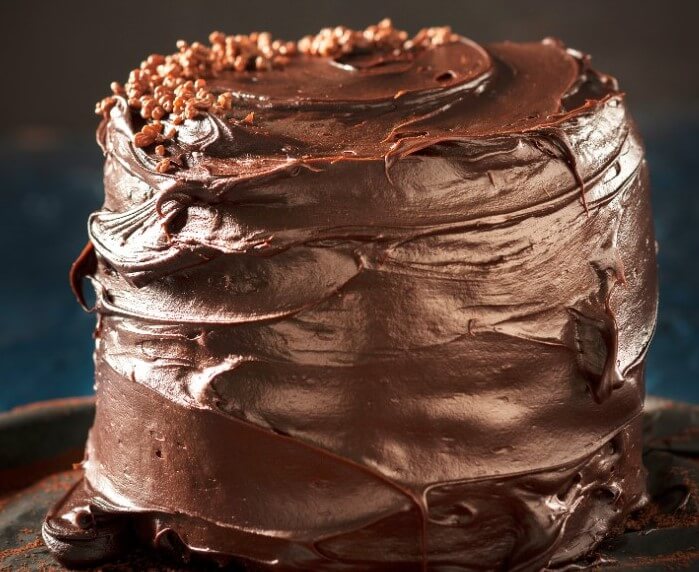 Mmm … how good it looks! And the best thing is that the preparation is very simple. You only mix chocolate and butter, melt it and then pour it between layers of Maria cookies dipped in milk.
7. Flan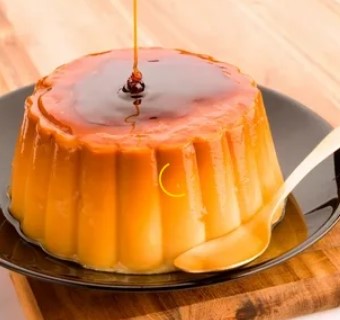 If the cookies are crushed, then mix eggs, milk, sugar plus the cookies in a blender and cook in a custard mold with caramel. You can add the Maria in your own flan recipe, you will see how delicious it is!
Tags:
chocolate chip cookies