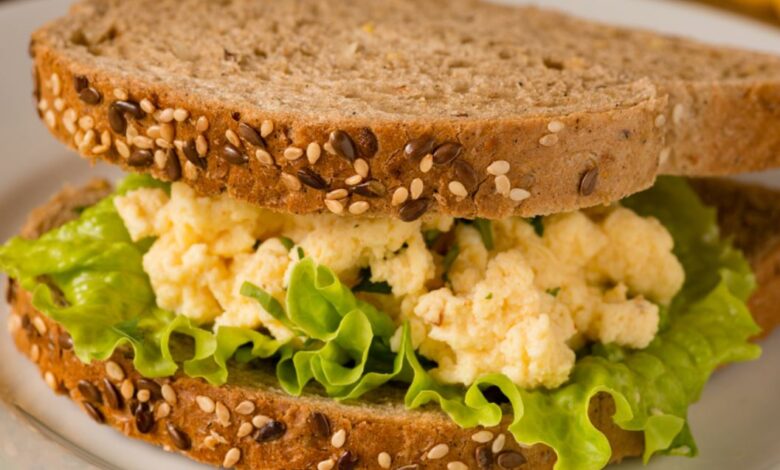 simple egg salad recipe:
The salad boiled egg is a classic for parties and special gatherings like Christmas, even if you eat all year. It is a very easy recipe that you will have ready in less than 15 minutes and that you can also use as an ingredient for other preparations such as sandwiches or canapes.
4 diners 15 m
Incoming
Low difficulty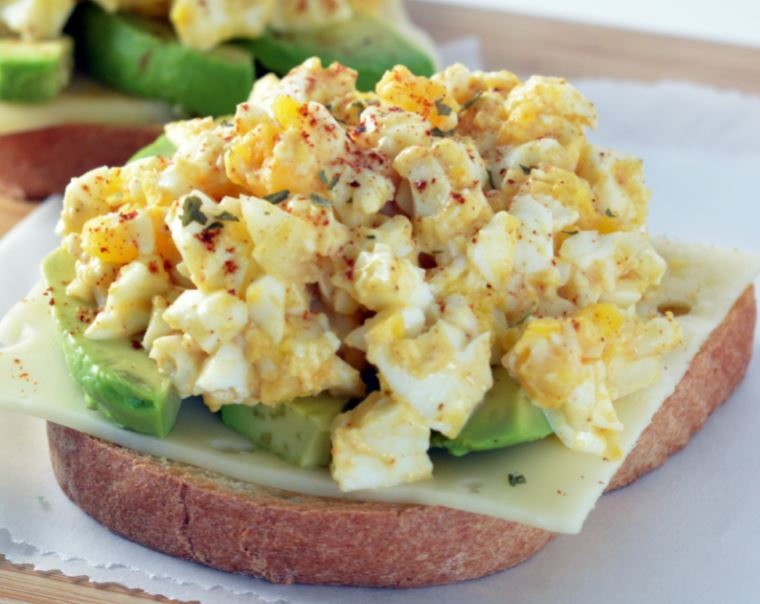 Additional Features: Cheap Cost, Boiled
Ingredients to make a simple egg salad recipe:
5 units of Egg
3 tablespoons of Mayonnaise
1 tablespoon Mustard
½ unit of Onion
1 clove garlic
1 bunch of Parsley
1 pinch of salt
Read also: 3 delicious healthy quinoa salads
How to make Ingredients to make a simple egg salad recipe:
1
To make this fresh salad, the first thing you should do is get the ingredients ready. the amount of mayonnaise and mustard can vary to taste and remember that if you prefer you can use oil and an extra egg to make homemade mayonnaise.
2
To cook the eggs, heat a pot with enough water, and when it comes to a boil add the eggs carefully. Lower the temperature slightly and let them cook for 10 minutes. Add a little salt and vinegar to make the hard eggs peel easier.
Tip: A trick to make perfectly cooked eggs is to submerge them in cold water with ice after the cooking time is over. Let them cool in this water and then you can remove the peel without problems.
3
Meanwhile, peel and chop the rest of the ingredients. Both the onion, garlic, and parsley should be cut as finely as possible.
4
Once they have cooled and you have removed the shell, cut the cooked eggs into more or less small squares. Reserve the yolks apart.
5
Next, recover the yolks and mix with the mayonnaise, mustard, onion, garlic, and parsley. Add a little salt and pepper to this sauce if you like.
6
Finally, mix everything with the rest of the boiled egg and correct the seasoning if necessary.7
Serve the hard-boiled egg salad and garnish with a sprig of fresh parsley or boiled egg segments. This fresh salad is served cold and is a perfect garnish for any type of dish. If you want you can add more ingredients and make a potato and egg salad.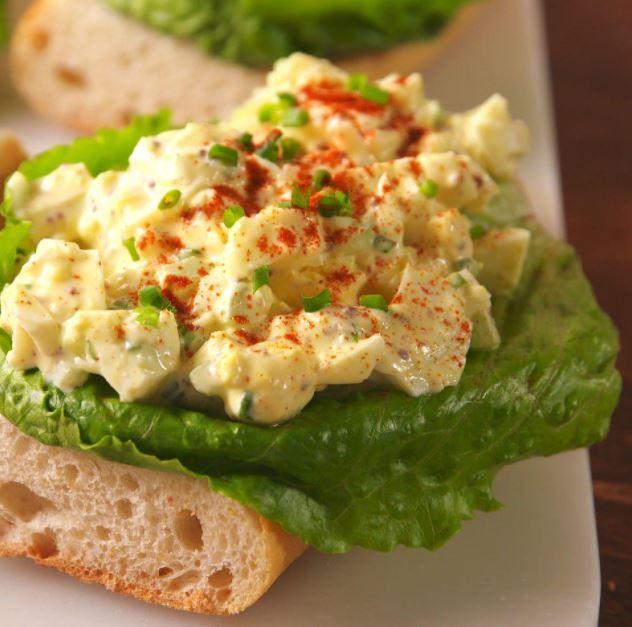 We have a surprise for you :
Potato salad with hard-boiled egg
Easy and quick recipe to prepare a delicious potato salad with hard-boiled egg, it also includes celery, onion and mayonnaise.
Dish: Side, SaladCuisine: European, Fusion, International, LatinKeyword: Potato salad, Eggs, Potatoes, Potatoes Preparation time: 15 minutesCook time: 40 minutesTotal time: 55 minutes Makes: 4 to 6 servings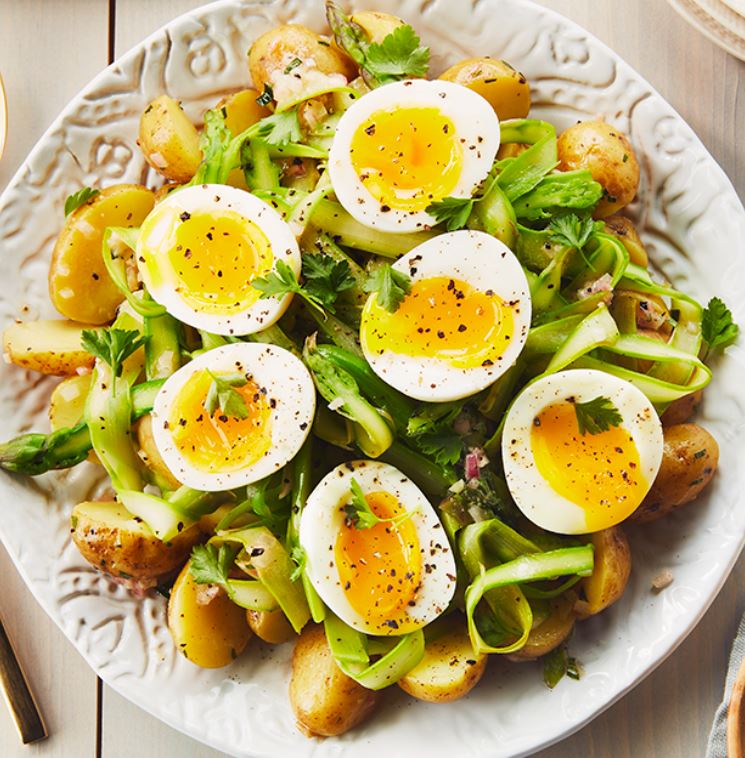 Ingredients
4 large potatoes well washed, unpeeled
4 hard-boiled eggs save 1 for garnish
½ pearl white onion, diced
2 celery stalks, minced
4 tablespoons mayonnaise
1 teaspoon mustard
1 teaspoon of vinegar
Salt and pepper to taste
To decorate:
Chopped dill – you can also use parsley or coriander
Ground paprika to taste
Lettuce leaves
Preparation
Cook the whole potatoes, which are well washed, but not peeled, in a pot with plenty of water and a little salt. Cook until soft, about 30-40 minutes depending on size. I usually try to pass a knife through the middle and if it happens they are ready.
Put the potatoes in a bowl of cold water to cool them and then proceed to peel them and cut them into small or medium squares.
For hard-boiled eggs, in a small or medium pot, bring water to a boil, then add the eggs – one by one using a spoon so they don't break. You can add a teaspoon of baking soda – this helps make it easier to peel them off. The eggs are cooked for 10 minutes in boiling water, then put them in cold water until it is time to peel them.
I recommend saving one of the eggs to decorate the salad at the end. Dice the rest of the hard-boiled eggs.
In a medium bowl or platter, place the chopped potatoes, the chopped hard-boiled eggs, the white onion, and the celery.
To prepare the dressing, mix the mayonnaise (or yogurt) with the mustard, vinegar, salt and pepper. Pour this dressing on top of the chopped potatoes and mix well.
Taste the salad and adjust the salt / pepper to taste. Add the chopped dill and ground paprika. If I keep one of the hard-boiled eggs, I can cut it into quarters or slices and use them to decorate the salad. The salad can be served on top of lettuce leaves if desired.
The salad can be served immediately or it can be stored in the refrigerator until serving time. Personally, I find that the flavor improves if it is left to rest for a few hours before serving.
Notes
Ingredient suggestions you can add to this potato salad: Peas or peasVainitas (green beans or green beans)Tender corn or cornCarrotPickled gherkins pickled jalapeños (if you want a spicy touch)OlivesHam or bacon shrimp or prawns tuna
Don't miss: Italian Pasta Salad With Pepperoni and Mozzarella Cheese
If you liked the post-Simple egg salad recipe you can share it on your favorite social networks (Twitter, Facebook, etc.…), ← you have different icons to click. Every day there will be new recipes and tricks for you, Follow us on Facebook @buzzrecipes12ShareShareShareShare