The Atkins diet is another high protein diet known all over the planet, with millions of followers. It was invented by American nutritionist Robert C. Atkins and published in 1972. With it, you can lose weight quickly.
The Dr. Robert C. Atkins published many books and created a nutrition research foundation whose main objective support for their diet.
Today his business has grown into the Atkins Nutritionals Group , a global provider of dietary supplements and specially designed foods to supplement your diet.
Next we will discover how to do the Atkins diet so that you know all the details of this weight loss plan.
What is this diet based on? This slimming method is defined as an eating system that emphasizes the consumption of lean proteins and low-starch vegetables . Simple carbohydrates such as flour or sugar are almost completely restricted, if not eliminated.
According to the Atkins diet, carbohydrates cause the level of sugar in the blood to rise, which causes the body to accumulate fat. According to this principle, by significantly reducing your intake you would be burning the accumulated fat and regulating the levels of sugar in the bloodstream.
The basis of the Atkins diet involves a strict change in eating habits : lots of protein, high fat content, and low carbohydrate content. In this case, therefore, we speak of a dissociated diet.
On the Atkins diet, foods are divided into several groups :
Protein
Fats
Carbohydrates and the latter cannot under any circumstances be mixed with the former. In order not to run the risk of mixing them, the Diet does not think about it: it practically eliminates them, especially in the early stages.
BASIC RULES FOR DIETING

No more than 20 grams of carbohydrates per day.
Proteins and fats should be taken from chicken, game, fish, eggs, red meat, butter, and vegetable oils. It does not include any vegetable protein.
Completely banish pasta, cereal, seeds, bread, fruits, starchy vegetables (such as potatoes and rice), and dairy products other than butter, cheese, and cream.
You cannot take nuts, seeds, or legumes.
Eliminate caffeine, theine, and any excitant.
No alcohol
The effort required to do the Atkins diet is average. You don't have to go to meetings with a dietitian, or buy special foods or supplements, but you do have to make big changes in the menus you prepare.
If you do the Atkins diet you will notice that your breath has a different smell, this is due to ketosis. Other side effects are headache and temper irritation. All this is motivated by the lack of carbohydrates.
ALLOWED FOODS
Now that you know better some of the basic elements that will help you carry out this diet, it is important that you know what kind of foods you can include in your daily menu. As we have already told you, it is a food method that is based on the complete reduction of carbohydrates and, on the contrary, it is committed to an increase in proteins combined with vegetables.
Anyway, so that you are more clear about what type of food you can take in this method, below we offer you a list of the foods allowed in the Atkins diet. They are as follows:
Meat of all kinds
Both red and lean meat, and so on. Therefore, in this diet you can eat beef or pork, two types of meats that are normally prohibited in the vast majority of diets.
Fish and shellfish
Fish of any kind can also be part of your diet. Both the whites as well as the blue ones, which, although they are richer in good fats, their protein intake is very favorable for the body.
Eggs
It is a type of food very rich in protein and, in the yolk, we find a large amount of healthy fats that are ideal for our body. Therefore, in the Atkins diet you can include the intake of eggs without any problem.
Green leafy vegetables
Vegetables that have a green color can be included in this diet, as is the case, for example, spinach, lettuce, broccoli, arugula, chard, and so on.
Nuts
They are also a very important part of this type of diet to lose weight. They are rich in protein and, in addition, they provide us with a rich source of good fats that are perfect for the cardiovascular system.
Olive oil
It is another of the ingredients that you can include in your diet without any qualms. But, yes, always trying to take it raw since that way it maintains its nutrients to the maximum. It is rich in healthy fats and therefore can be taken on this diet.
In addition to this list of foods, you have to know that for the Atkins diet to work properly it is important to increase your fluid intake. In fact, it is recommended to drink 2 liters of water a day to promote the purification of the body and reduce toxins.
ATKINS DIET DRINKS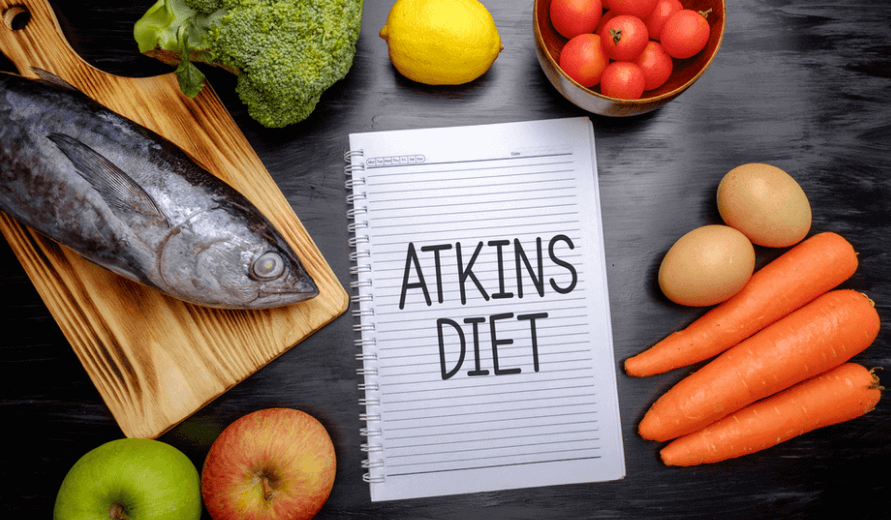 We have decided to create a specific section that talks about the type of drinks that can be had on the Atkins diet because, really, it is surprising. During this diet, in addition to increasing water consumption, other drinks are also allowed such as:
It is surprising that in a healthy diet the consumption of coffee is allowed without any qualms. We must bear in mind that experts do not recommend abusing coffee since it is an exciting agent that can alter our nervous system.
However, alcohol and any liquor is totally prohibited because it provides a large number of carbohydrates as well as empty calories.
FORBIDDEN FOOD
We are now going to know all the foods that you can NOT eat during the Atkins diet. It is important that, if you want to lose weight and follow the premises of this eating method, you carry out these daily "rules" to the letter.
The foods that you will have to avoid if your goal is to lose weight are the following.
Sweets and sugary
In general, all sugars will need to be completely eliminated from the diet, and here we include fruit juices or other products that may seem healthy but are actually packed with sugars.
Cereals
All cereals in any of their formats are prohibited in this diet, therefore, you should not eat rice, bread, or wheat products, rye, etc.
Vegetable oils
On the Atkins diet, you can take olive oil, however, other oils such as coconut, soy or corn are strictly prohibited.
Fruits rich in carbohydrates
In general, fruits can be part of your diet but in a limited and controlled way. However, options such as bananas, pears, apples or oranges should be avoided as they are very rich in carbohydrates.
Vegetables
During the Atkins diet you cannot eat any type of legume since it is a food that provides you with 50% protein and 50% carbohydrates, therefore, do not eat lentils, chickpeas, peas, beans …
Starch
The starchy foods can not be part of your diet. Among all of them, the best known is the potato, a vegetable that should disappear from your diet during the weeks that the diet lasts.
PHASES
This diet is divided into 4 different phases that have to be carried out to be able to lose weight effectively. They are as follows:
PHASE 1
One type of menu is designed and only 25 grams of carbohydrates are allowed.
PHASE 2
New menu design based on proteins and fats – except for fried ones – and the amount of carbohydrates is increased.
PHASE 3
Intake is increased to 450 grams of carbohydrates weekly.
PHASE 4
The goal weight is assumed to have been lost. From now on you have to follow the dissociated diet for the rest of your life.
After these 4 stages, the final stage of "permanent weight loss" begins . In this last phase, the Atkins diet slowly adds more vegetables, and already allows you to include seeds, cereals, nuts, legumes, berries and other fruits, wine and other alcoholic beverages.
EXAMPLE OF DAILY MENU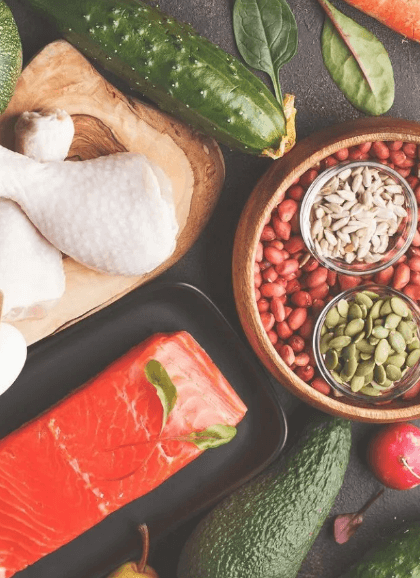 We present you the daily diet menus
MONDAY
Breakfast
Scrambled eggs with mushrooms
Coffee with milk 0%
Food
Green salad with nuts
Grilled chicken
Price
Baked fish fillet
Roasted peppers
TUESDAY
Breakfast
Grilled eggs with bacon
Green tea
Food
Vegetables soup
Beef burger accompanied by artichokes
Price
Cream of zucchini
Eggplant stuffed with minced meat
WEDNESDAY
Breakfast
Coffee with milk
Spinach omelette with 2 eggs
Food
Boiled spinach
Chicken stir fry with assorted vegetables
Price
Salad with fresh cheese and nuts
THURSDAY
Breakfast
2 boiled eggs with tomatoes
Coffee
Food
Baked salmon
Grilled vegetables (asparagus, onion, zucchini …)
Price
Chicken soup
Roasted peppers with tuna
FRIDAY
Breakfast
Bacon with scrambled eggs
Café o Té
Food
Mixed salad
Meatballs with mushrooms
Price
Chicken salad
SATURDAY
Breakfast
Ham and cheese omelette
Café o Té
Food
Pork chops
Side roasted vegetables
Price
Boiled chard
Baked cod
SUNDAY
Breakfast
Scrambled eggs with ham
Café o Té
Food
Leek cream
Baked Chicken Wings
Grilled egg
Price
Green salad
Beef steak with wild asparagus
SIMPLE RECIPES
Do you need inspiration to enjoy delicious recipes for your diet? You should know that there are a lot of tasty and surprising dishes that you can prepare to do this diet. It is a diet that is based on the consumption of proteins and vegetables , therefore, there are many dishes that you can prepare.
Here we leave you 3 recipe ideas so you can enjoy a much more tasty and surprising diet.
COD WITH PAPRIKA
This is a very easy recipe to make and that will help you enjoy a different and delicious dish. To make this dish for 2 you will need these ingredients:
4 cod fillets
2 chilies
2 cloves of garlic
Olive oil
Hot paprika
We start this recipe by placing the cod fillets in a source. Now, we will pour a little oil in a pan and chop the garlic; When it is hot, add the garlic and let it cook without browning excessively. Next, we will add the chilli and mix so that it cooks together with the garlic. When they are ready, we reserve it.
The next step is to add the cod in the same pan so that it cooks with the flavor left by the two seasonings. We will start by cooking the fish for the meat part and, later, we will turn it over so that it cooks for the skin area.
When it is ready, remove and serve, placing the spicy paprika and garlic that we had previously reserved on top. Ready!
VEAL ROLLS WITH VEGETABLES
We continue with these ideal recipes for your diet proposing, now, a dish whose main ingredient is veal and vegetables. The ingredients that you will need for 2 diners are the following:
4 beef steaks
1 eggplant
0% cheese to melt
Olive oil
Salt and pepper
We will start by cutting the aubergines into very thin slices and let them soak in a container with water and salt. We will have to leave them here for about 30 minutes to allow them to sweat.
In a frying pan, we will put a little olive oil and, when it is hot, we will mark the veal, turning and turning. We will reserve. In the same pan, we will sauté the eggplant and let it be well done on both sides.
To make the filling, you will simply have to place the steaks in a source and, in the center, place the hot aubergine. Now, put the slice of 0% cheese and roll from the finest area. You can join the rolls with a toothpick so that they stay fixed.
When we have the rolls done, we will return them to the pan with a little oil until we see that the cheese is melted. Ready!
SCRAMBLED EGGS WITH MUSHROOMS
And we finish this selection of recipes for the Atkins diet by telling you about a dish that is perfect for breakfast. It is about preparing delicious broken eggs with mushrooms that can be made with these ingredients:
2 eggs
Mushrooms
it
Parsley
Olive oil
Salt and pepper
It is a VERY easy and quick recipe to make. To do this, you should start by putting a little oil in a pan and, when it is hot, add the finely minced garlic. Before it browns, we will add the broken eggs and then the sliced ​​mushrooms.
We will mix all the ingredients by sautéing them and trying to mix them as much as possible. Season to taste and, when ready, serve with a little parsley. It will be delicious!