Here you have the recipe for a fresh and simple rice salad, and a lot of ideas to customize it to your liking with different ingredients.
The only elaboration of the Rice avocado and salmon salad is the cooking time of the rice, and meanwhile you are integrating and preparing the rest of the ingredients, so in less than 30 minutes you already have the rice salad ready to serve. The best rice for preparing salads is long grain. For this salad basmati rice or
are very good, which is also very aromatic.
INGREDIENTS of the Rice avocado and salmon salad for 6 people
1 glass (of water) long-grain rice
6 surimi sticks
1 small can of sweet corn kernel (about 80 g)
1 avocado that is whole
Optional: 1 good piece of red onion (or fresh spring onion) and cucumber (provide a crunchy and fresh point)
To dress: Homemade mayonnaise to taste seasoned with a point of mustard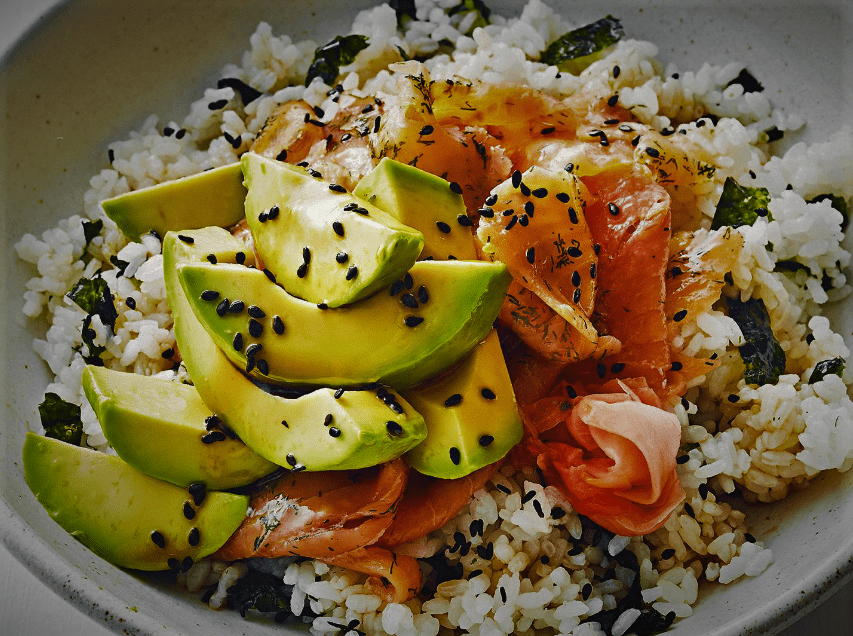 ELABORATION of Rice avocado and salmon salad
The first thing we have to do is cook the rice in boiling water with salt, making sure that it is rather whole. We will have it in about 15 minutes or so since you put it in the boiling water.
While the rice is cooking, we put the rest of the ingredients in a serving bowl. We put the washed corn and well drained, the avocado 8es important that it is whole so that we do not fall apart from mixing the salad), and the chopped surimi, the cucumber with skin cut into very small cubes, the red onion in small cubes.
When the rice is ready you have to wash it under the tap until it cools in a colander, and drain it very well so that the salad is not watery.
Then mix all the ingredients and add mayonnaise little by little until you have a point that we like. We enrich the mayonnaise with mustard to taste.
If all the ingredients were cold, you can serve it. Otherwise, keep cold until serving.