Do you want to prepare a delicious and nutritious vegetable cream with asparagus and spinach? This recipe is easy to make, and I assure you that you will love its flavor and texture. In addition, it is an excellent option to include more vegetables in your daily diet.
Ingredients:
1 onion
2 garlic cloves
1 potato
1 bunch asparagus
2 cups spinach
4 cups vegetable broth
1/2 cup cream
2 tablespoons olive oil
Salt and pepper to taste
Method of preparation:
Peel and dice the potato.
Wash and cut the asparagus into small pieces.
In a large pot, heat the olive oil over medium heat and sauté the onion and garlic for a few minutes, until golden brown.
Add the potato and asparagus and mix well.
Add the spinach and vegetable broth. Let cook for about 10 minutes, until everything is soft.
Remove from heat and let cool a little.
Using a blender or hand mixer, puree the soup until smooth.
Return the soup to the pot and add the cream. Mix well and heat over medium-low heat until hot.
Serve in deep dishes and add salt and pepper to taste.
Helpful tip:
To give it an extra touch of flavor, you can add some grated cheese or croutons on top of the soup before serving.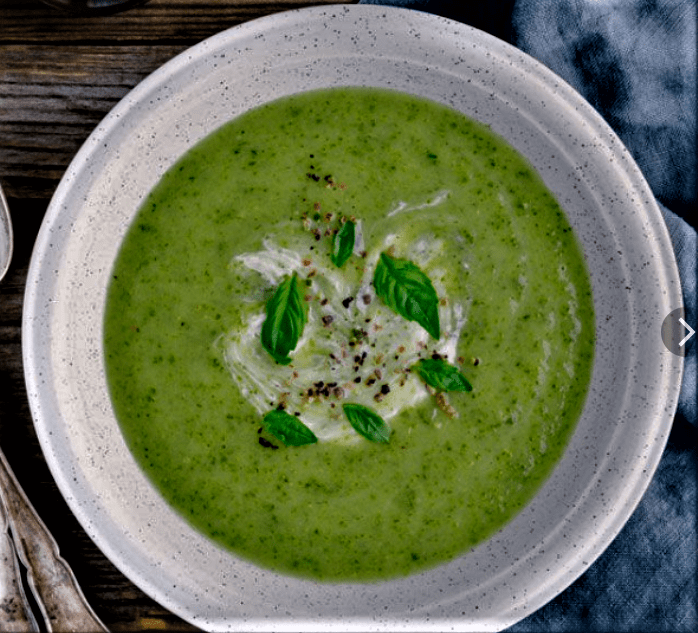 Nutritional value:

This vegetable cream with asparagus and spinach is very nutritious and low in calories. A 1-cup (240 ml) serving contains:
Calories: 120
Protein: 4 g
Fat: 7 g
Carbohydrates: 11 g
Fiber: 3 g
Vitamin A: 70% of the recommended daily intake
Vitamin C: 40% of the recommended daily intake
Calcium: 8% of the recommended daily intake
Iron: 15% of the recommended daily intake
Characteristics:
Cooking time: 30 minutes
Preparation time: 10 minutes
Type of cuisine: Stove