Vichyssoise or leek cream is a cream of leeks that is served cold and is of French origin, although they say that they have been discussing its authorship for almost a century: French, American, and even Basque … Whoever invented it is a delicious recipe that is already known all over the world, because its mild and delicate flavor is perfect as a first course of any meal.
The recipes with leeks are very helpful and are used in the preparation of purees, puff pastries and cakes. This vegetable has an exceptional reception in the cuisine of northern Spain, since it is used in very diverse dishes among which the "porrusalda", soup made with leek, carrot and potato, typical of Basque cuisine.

We bring you two versions, the traditional vichyssoise, which has cream and butter, as is usual in French cuisine and another recipe without cream and with our traditional olive oil, a little lighter.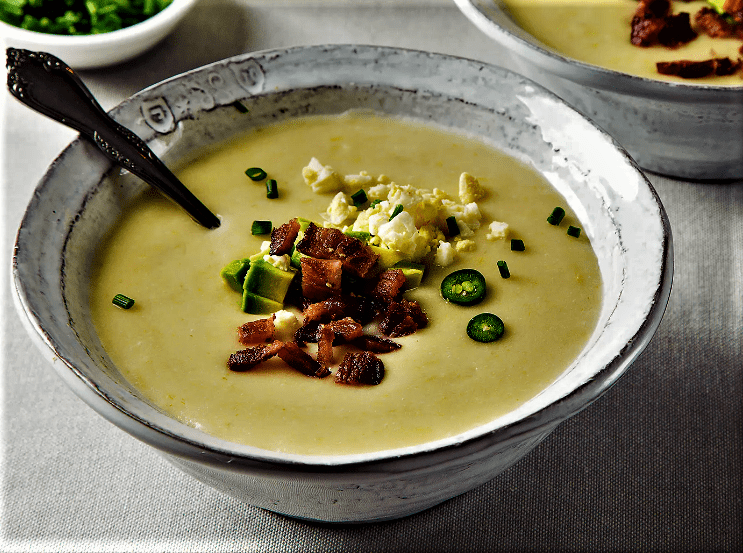 Ingredients Vichyssoise or leek cream
5 leeks
2 potatoes
2 spring onions
50 g butter
1 liter chicken broth
200 ml light cream for cooking (cream)
Salt and pepper to taste
How to make Vichyssoise
Chop the spring onion and the white part of the leeks, removing the first layer with a longitudinal cut with the knife. Chop the leeks into rings that we sauté next to the spring onions over low heat in a pot with a little butter. We must watch it so that they do not brown too much.
Peel the potatoes and snap them (cut a little with the knife and finish breaking with your hand), putting them next to the leeks when they are already soft. Season lightly.
Add the homemade chicken broth or brick and let the potatoes and leek cook over medium-low heat for about half an hour.
When the potatoes are cooked (you can prick a potato with the tip of a knife to see if it crosses it well), remove from the heat and crush with an electric hand mixer.
We pass through a strainer if we want to remove the strands of the leek and make it thinner, and add the liquid cream or cream, rectifying salt and pepper if necessary.
We put it in the refrigerator to cool before serving it
Vichyssoise ingredients
Vichyssoise without cream
Put in a casserole a little extra virgin olive oil and add the spring onions, leeks and potatoes, all peeled and chopped.
Poach a few minutes carefully that it does not brown. Add the milk, water and season with salt and pepper.
Let it cook over low heat, not boil, about 30 minutes.
Grind very well, we can even go through a Chinese so that it is very thin and serve.
Recipe Vichyssoise cold cream leeks
How to serve Vichyssoise or Cold Leek Cream
As we told you, vichyssoise is a cold soup and so it is delicious, but you can also take it hot.
Read also: Dinner ideas easy quick
To serve it and make it more colorful, you can melt some cheese into strands by putting small piles on a baking tray. Once they melt you let them cool and put one to each diner in their bowl of vichisua. You can also sauté some thin leek rings and water with a splash of olive oil.