I love recipes with fish because, in general, it is a product that is very delicious prepared with the simplest techniques such as grilled, steamed or baked, and the truth is that it needs few "decorations" to show off . It fits perfectly on special occasions but also on a day-to-day basis , in fact I prepare this recipe very often either with sea bass or sea bream because you don't complicate anything and the fish is delicious.
This recipe for sea ​​bass with salt with ratatouille is one of those baked fish recipes that I prepare most often because the result of this technique is well worth it since there is no mistake, the fish is very juicy and full of flavor and it can also be prepared just one sea bass or fill the oven and prepare dishes for many people at once. The "salted" I will explain below, although it consists of creating a thick layer of salt around the fish so that it is baked inside and thus preserves its juiciness to the maximum, we could say that it is cooked in its own juices and that makes the result a success.
If you like baked fish, on the blog we have a great assortment of them, such as baked cod with potatoes, a recipe very similar to this as well as baked hake with baked potatoes and onion or baked turbot with baked potatoes, which is ideal for special dates such as Christmas, as is the case with baked sea bream with potatoes in lemon.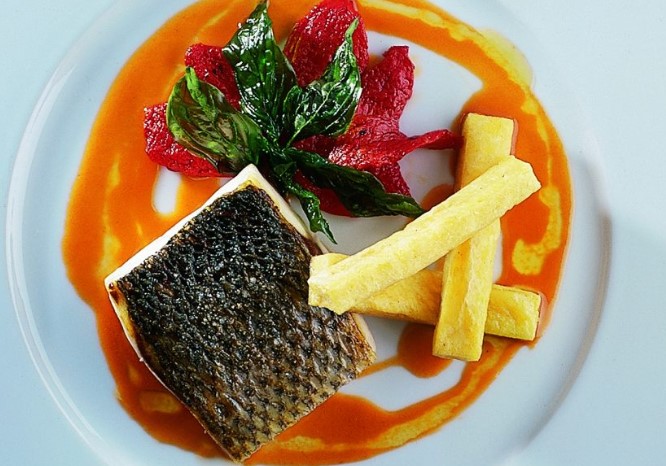 The roast of bream in the oven with potatoes is also delicious, which leaves a very juicy and perfectly cooked fish. And going to the classics, you can't stop trying the baked gilthead bream with roasted peppers ratatouille, a traditional recipe with a different and very tasty garnish, or the gilthead seabream that is so good with so little effort.
Ingredients to make sea bass with salt with ratatouille (4 people):
2 medium-size seabass or one large. For two people I have used a sea bass that weighed about 500 grams and in the photographs you can see what it gave of itself. In your fish shop, ask that they not remove the scales and that they clean it a little inside but with the smallest possible opening.
1-2 kg of coarse salt. I always use one that they sell special for baking and that is easily found in supermarkets.
To dress the fish with extra virgin olive oil and a little salt you have enough. I personally have prepared a more flavored oil with these ingredients (amounts to taste, I recommend you try it):
A garlic clove.
Some basil leaves.
A little lime juice.
Extra virgin olive oil and salt.
Preparation, how to make the recipe for sea bass with salt-roasted in the oven:
Preheat the oven to 220ºC with heat up and down and a fan.
Wash the seabass under a stream of cold water and pat them dry with kitchen paper.
Use a baking tray similar in size to sea bass or a little larger, and if you prefer, line it with greaseproof paper.
Place a bed of coarse salt a little wider than the size of the sea bass and flatten it a little to make it compact.
Place the seabass on top and add coarse salt on top, compacting it little by little with your hands and making sure that they are perfectly covered except for some parts that will serve as a trick to know if the seabass are ready:
Put the tray in the oven and let those that weigh like mine bake for about 15 minutes , around half a kilo (each), 25 minutes for those that weigh 1 kg … increase 5 more minutes of baking for each 250 gr of fish.
After the baking time, remove the tray from the oven, do the eye or tail test and if everything indicates that they are ready, proceed to remove the salt. The most useful thing is to hit it a little with the tip of a knife or even a spoon and you will see that the salt comes out in pieces. Do this until the fish is fully uncovered and you can fix it.
Here you can see the appearance of the eye once baked and indicates that they are perfectly cooked.
I recommend that you place the seabass on a separate plate to remove the head and tail, the scrape and any thorns it may have (there are usually some quite large ones near the head area, peel them off the skin and serve them on the plates with the dressing and garnish you have chosen.
Time: 50 minutes
Difficulty: easy
Serve and taste:
Ideally, serve this delicious sea bass freshly cooked and hot with the garnish you have chosen (which you must have prepared beforehand or at the same time), so I recommend you clean them quickly once they are baked so that they do not lose too much temperature. I also give you some advice, if you are a lot of diners it may not be worth it to clean the sea bass, simply place each half on the plate of a diner and have him remove the bones and bones and the skin.
When the fish is completely clean on the plates add the dressing on top or, as I said, a drizzle of extra virgin olive oil, a little salt, and if you prefer a drizzle of lime or lemon. It is a fish that if it is well baked will be very tender and juicy, it is… scandal!
Variations of the recipe for sea bass with salt-roasted in the oven:
The way of grilling with salt allows few variations but it is true that coarse salt can be mixed with herbs and spices to your liking to give a different aromatic touch to the fish while it is roasting. Thyme, dill, or parsley are the most used herbs and pepper is great for spices.
I recommend serving this dish with a different garnish or dressing each time you prepare it. In addition to the ratatouille and potatoes to the oven, you can also serve it with baking potatoes, fried potatoes, potatoes cooked in the microwave or mashed potatoes home and as for vegetables decántate some vegetables to the oven or grilled vegetables. As for the sauces that are great with fish, my favorites are the piquillo pepper sauce, the tartar sauce, and of course a good homemade aioli.
you may also like : The best appel pie by grandma ople