Banana pancakes for baby are ideal for breakfast or for a healthy and nutritious low calorie snack . They are also perfect for weaning babies because they do not contain sugar and are very soft so no teeth are needed to chew them. Here the twins brushed them along with some fresh fruit!
Not sure what to do for breakfast for your kids even for you? How about this delicious Oatmeal Banana Pancake. Its preparation is easy and your child will love trying it.
In my house in the morning it is a ritual to have breakfast all together, and during the weekend when we have more time we try to experiment with new dishes. So, lately, we have been dedicated to preparing the pancake recipe .
We tried different versions: one without dairy products, one classic with only 3 ingredients, and one with rice flour, perfect for people intolerant to gluten.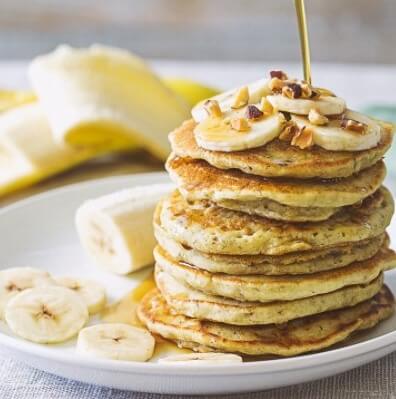 All the recipes are very simple and quick to prepare, plus they are great for children, even the smallest, who are starting to eat the first pieces or who have chosen the path of self- weaning …
It is true that in many families, mothers and fathers have schedules and only one of the two finds himself preparing the children to take them to the nursery while the other is already away from home for work, so today I want to offer you an alternative recipe and really tasty, for the most important meal of the day to be prepared all together on Sunday, each to their own taste.
Read also: The best Good Old Fashioned Pancakes
Let's see together how to prepare pancakes, light and also suitable for children, in 3 variants that can satisfy all needs:

the classics, the lactose-free ones and also the version for people intolerant to gluten; the doses shown in the recipes below allow you to obtain 8 mini-pancakes.
1) THE CLASSICS
ingredients:
– 1 egg
– 130 ml of milk
– 130 grams of flour
– half a teaspoon of baking soda
Method
To prepare the batter, start mixing the egg and milk in a bowl, slowly add the flour and baking soda, always continuing to mix, until you get a homogeneous mixture without lumps.
2) WITHOUT LACTOSE
ingredients:
– 1 ripe banana
– 1 egg
– 2 tablespoons of 00 flour
Method
First, mash the banana well in a bowl and add the egg, start mixing them together and slowly add the flour,
Insist until the mixture obtained is homogeneous and without lumps.
3) GLUTEN FREE,
ingredients:
– 1 ripe banana
– 1 egg
– 3 tablespoons of rice flour
Method
To prepare the batter, the same procedure applies as for lactose-free pancakes, therefore: first, mash the banana well in a bowl and add the egg, start mixing them together and slowly add the flour,
Insist until the mixture obtained is homogeneous and without lumps.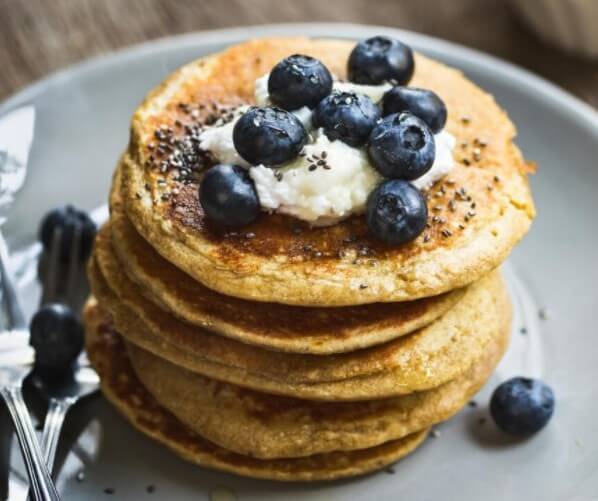 How to cook pancakes
Cooking is universal for all types of pancakes, you can proceed as follows:
– grease the non-stick pan and heat it for a few minutes, it must be very hot
– pour a small ladle of batter and let it cook for about two minutes until it begins to make small bubbles
– turn the pancake and cook it on opposite side for 2/3 minutes.
I recommend the fire must be lowered before pouring the batter otherwise the dough burns on the outside and remains undercooked inside.
Now comes the tastiest and funniest part, that is to choose how to season them and then enjoy them!
For those who love sweeter flavors already in the dough, you can add honey or a teaspoon of sugar.
The possibilities are many, depending also on the season they can be completed with fresh fruit, maple syrup, Nutella, jam and icing sugar. In short, you have free choice as long as you promise to let the whole family taste them!
Don't miss: The best 10 weaning baby recipes
The pancakes, prepared in this way, are a healthy, tasty food with a soft consistency also suitable for younger children and those who practice self-weaning, rich in energy and easy to prepare.
banana pancakes for baby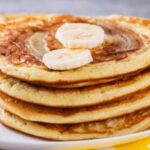 1 ripe banana
1 egg
2 tablespoons of flour type 00
Mash the banana until smooth

Add the egg and beat it together with the banana

Add the flour, preferably sifted to prevent lumps from forming, and mix it into the mixture until you get a smooth batter
Notes
Cooking pancakes for all recipes
Grease a non-stick pan with a drizzle of oil and heat it well
Pour a small ladle into the pan and allow the pancake to cook until bubbles begin to form (about 2 minutes)
Turn it over and let it cook for another 2 minutes
Use medium-low heat to prevent pancakes from burning
Variations and advice
In the recipe for milk-free pancakes, to make them gluten-free, you can replace the two tablespoons of normal flour with about 3 of rice flour
You can add sugar or honey to both pancake recipes if you want to make them sweeter
Pancakes can be decorated or garnished with what you prefer, sweet or savory, with fruit or jam
The milk in the classic recipe can be replaced with plant milk
It is very important that the pan is hot.
An extra recipes for banana pancakes for baby
Sugar-free banana pancakes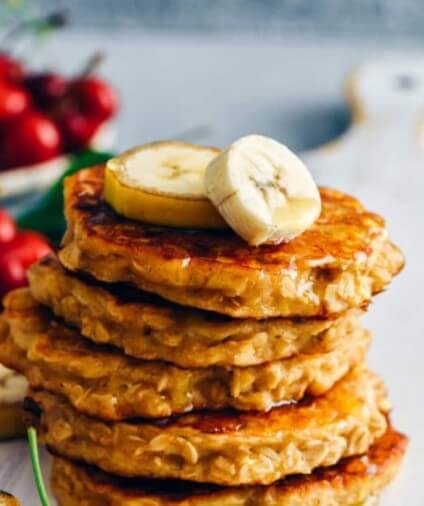 These sugar-free banana pancakes are super soft pancakes made with 5 ingredients in less than 5 minutes that will drive your kids and you crazy: both for their goodness and for their ease of execution!
They are very soft and naturally sweet because they are made with the pulp of ripe bananas which gives them an exceptional taste. They are therefore an excellent idea to recycle overripe bananas as an alternative to the usual banana bread.
Delicious naturally sweet pancakes perfect for children and more!
| | |
| --- | --- |
| Preparation time5 minutes Portions6 peopleINGREDIENTS1 banana mature1 egg65 g flour type 160 ml milk rice (or other vegetable drink)1 pinch bicarbonate1/5 teaspoon baking powder | |
INSTRUCTIONS
In a bowl, mash the banana pulp with a fork.
Add the lightly beaten egg with the milk and mix with a hand whisk.
Add the sifted flour with baking powder and baking soda and mix with a whisk to mix the ingredients (just a few turns).
Heat a pan with a drizzle of oil and pour a spoonful of batter for each pancake. Cook for a minute and as soon as bubbles form on the surface, turn the pancake over and cook for another 30 seconds. Continue like this until the batter is finished.
Let's take a look for the best pancakes
PANCAKE IN BOTTLE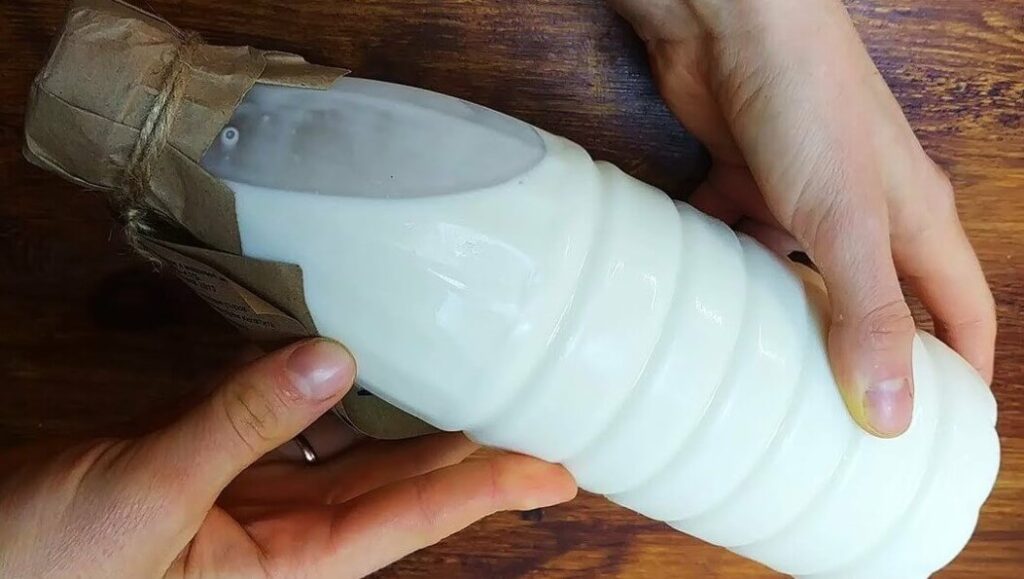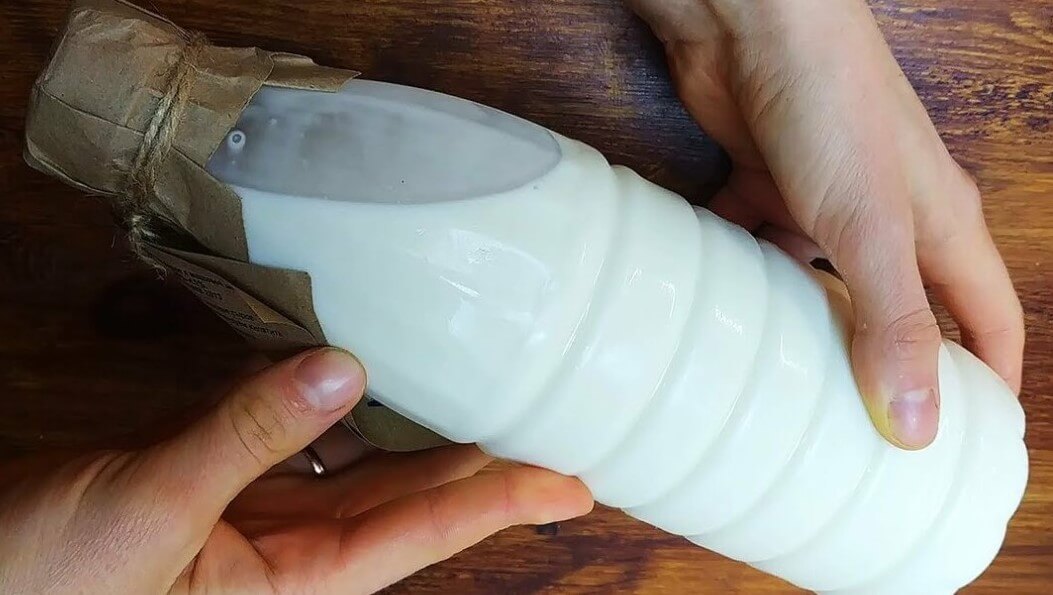 Pancake in a bottle an easy and very fast recipe to prepare, without butter of course, my classics the ones you all know, perfect for breakfast or a snack, you will not dirty anything to prepare them, they are very fast, very good, you can spread them with Nutella, jam, cream or that what you want. They are delicious,
even simple but the beauty is that when you finish making them you will throw away the bottle and you will not have really dirty anything! So don't tell me you don't want to try them eh.
I discovered this recipe by chance with my … there was an American guy (I think) blond with a goatee and he also made us the crepes with this method so you know that soon I will also try those but now let's start immediately with the bottled pancakes because it was so fun to prepare them that I want to show them to you immediately. Ah …
Preparation:10 minutes
Cooking:10 minutes
Difficulty:Very easy
Portions:4 people
Cost:Very cheap
Ingredients
200 g flour 00
50 g Sugar
1 egg
1 tsp baking powder for cakes
250 ml Milk
1 Plastic bottle
Preparation
Making bottled pancakes is really quick and easy.
Take an empty plastic bottle and put the sifted flour, sugar and yeast into it with the help of a funnel, then add the whole egg and milk at room temperature.
Close the bottle and beat vigorously (very vigorously) for a few minutes so that all the ingredients are amalgamated with each other and that there are no lumps.
Lightly smear a pan with butter (if you use a non-stick pan there will be no need) and cook the pancakes directly by pouring a little mixture from the bottle.
Cook a few minutes until bubbles form on top then turn the pancake gently and cook for a few minutes on the other side as well.
Bake all the pancakes and then decide how you want to garnish them.
VARIANTS AND advice if you have any leftover mixture, you can close the bottle and put it in the fridge for the next day.
If you put 350 ml of milk in the bottle instead of 200 you can also make crepes.
NUTELLA PANCAKE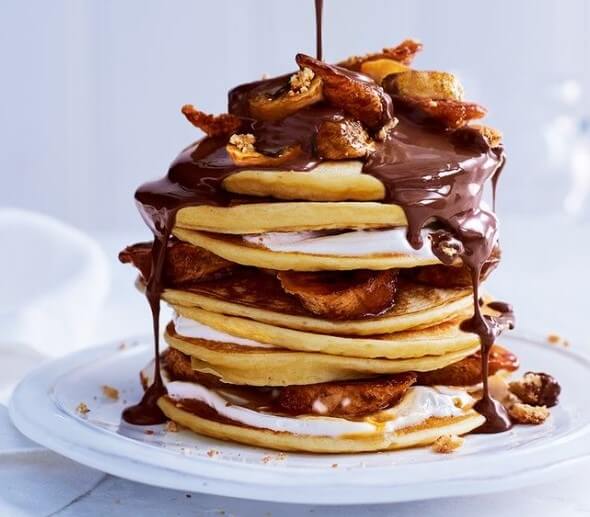 Nutella pancakes are a variation of my famous pancakes without butter or bottled pancakes. Usually, you would put Nutella inside or on top and instead this time I wanted to try putting Nutella directly into the dough and see what happened. I admit that I had to try the recipe twice to be able to perfectly calibrate the Nutella with the rest of the ingredients, not too much or too little otherwise it wouldn't have colored the pancakes enough but now my Nutella pancakes are really perfect.
Preparation:10 minutes
Cooking:10 minutes
Difficulty:Very easy
Portions:4 people
Cost:Bass
Ingredients
200 g flour 00
200 ml Milk
50 g Sugar
50 g Nutella
1 egg
1 tsp baking powder for cakes
Preparation
In a bowl put the whole egg and sugar and mix with a spoon until you have mixed them all completely.
Add the milk and mix.
Add the 00 flour and the sifted baking powder and smooth out all the batter for the pancakes.
At this point add the Nutella and mix with a hand whisk so that all the Nutella blends perfectly with the dough.
Heat a pan with the non-stick base and, when it is hot, cook a ladle of dough at a time over medium heat for a few minutes until you see that bubbles begin to form . This is the time to flip your Nutella pancakes on the other side as well.
When you have turned the Nutella pancakes, cook them for a few more minutes and remove them from the pan.
Serve the Nutella pancakes alone or sprinkled with powdered sugar or, if you are not on a diet, spread with a veil of Nutella, custard, jam, maple syrup, honey or whatever else you can think of. also with fresh fruit and whipped cream.
COFFEE PANCAKE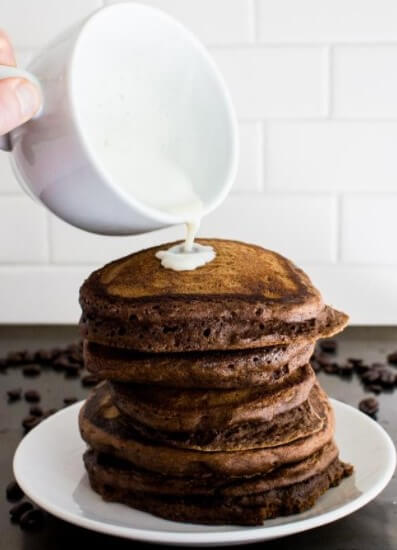 Coffee pancakes a very easy, quick and delicious recipe that you can also prepare every morning. The coffee pancakes are without butter and I used a fantastic and beautiful machine, very easy to use, ideal for enjoying the best coffee prepared with the ESE Caffè Borbone pods .
The Bourbon coffee is a very good coffee, very balanced and full-bodied, creamy and perfectly dosed to obtain a coffee that is really the same as the one I take at the bar and using it to prepare these pancakes was really easy! Would you like to try the coffee pancakes too? Basically the perfect breakfast right?
DifficultyVery easy
CostVery cheap
Preparation time10 minutes
Cooking time10 minutes
Portions4 people
Ingredients
200 ml Caffè Borbone
200 g flour 00
50 ml Milk
90 g Sugar
1 egg
1 tsp baking powder for cakes
for decoration:
100 g Dark chocolate
50 ml Milk
Preparation
Prepare the Bourbon coffee (to have 200 ml you will need about 4 pods) and let it cool.
Put the whole egg in a bowl with the sugar and beat them with a fork or hand whisk.
Add the milk to the coffee and mix.
Combine milk and coffee in the bowl together with the egg and sugar and continue to beat only with the hand whisk.
Add to gradually even the flour sifted and baking powder for cakes and continue stirring with a whisk so that no lumps are formed until the batter will get smooth and homogeneous. (If lumps form, you can use the mixer for a few seconds).
Heat a non-stick pan and, when it is hot, cook a ladle of pancake dough and cook for about 4 minutes until you see that bubbles form on top then turn the pancakes and cook them on the other side to another 3 or 4 minutes.
Remove the coffee pancakes from the pan, stack them all on top of a plate.
Take the dark chocolate and break it up with a knife.
Heat the milk and, when it is hot, put the chopped dark chocolate, stirring well with a spoon so that the chocolate melts completely, then pour it directly over the pancakes.
If you want to further decorate the coffee pancakes with a sprig of cream.
VARIANTS AND TIPS
No need to put butter in the pan. Do not mash the pancakes after turning them but leave them puffy. If you liked this recipe.
Banana pancakes for baby