Spicy chicken
The Easy Chicken Piccata is an easy main dish to prepare and refreshing flavors by acids it provides. It is made with chicken breast in thick fillets and flavored with white wine, lemon and capers mainly, although there are many formulas to prepare this recipe, you can add garlic, shallots, parsley … it is also common to use butter to cook, even There are recipes in which the sauce ends with a little cream.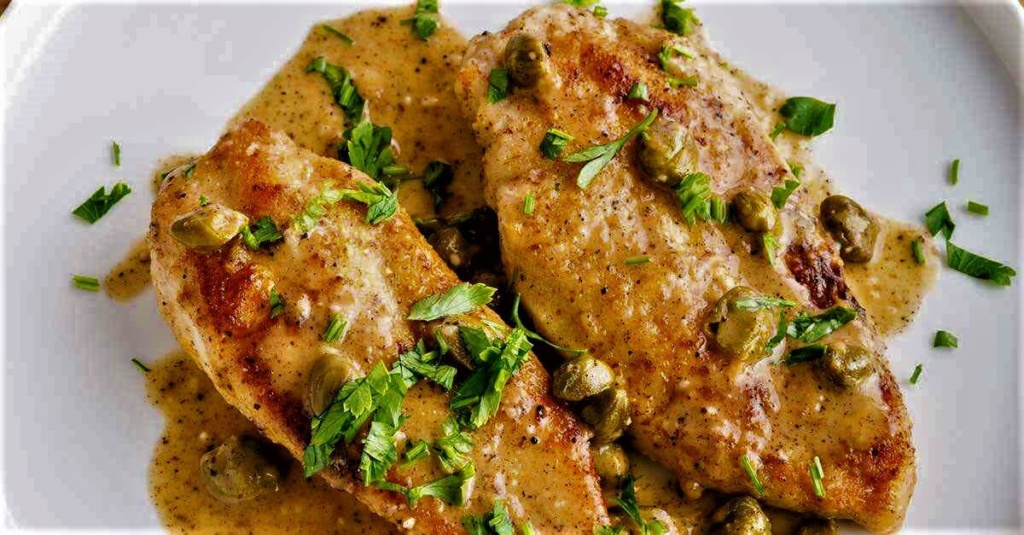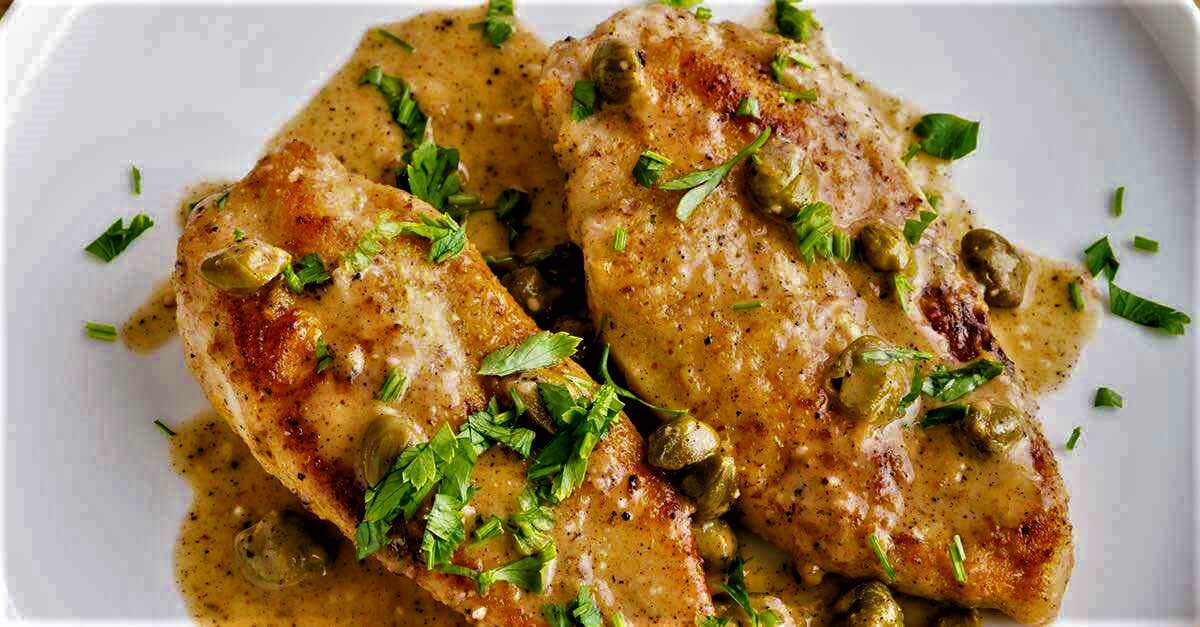 Our recipe for Easy Chicken Piccata for a day every day is usually this, simple, fast and very tasty, as well as light. If we prepare this recipe for a special meal, we flavor it more and look for more creaminess in the sauce, also taking care of the plating. When we prepare it again we will show you the result, because even if it is a simple dish, it is worthy to decorate a party table, simply because everyone who tries it likes it. By the way, in Italy it is known as Piccata , another dish that is made with beef, although it is also made with fish, we will talk about it soon, now we encourage you to take note of this chicken recipe.

Ingredients (4 diners)Easy Chicken Piccata
4 chicken breasts
c / n harina
freshly ground black pepper
sal
350 grams of white wine
150 grams of natural lemon juice (and grated skin if desired)
2-3 c / s of Capers
Elaboration
Clean the chicken breasts well and cut them in two, in a butterfly, in half as if it were a sandwich and separating it into two fillets. Season to taste and pass each fillet through the flour. Put a pan with a little oil, without becoming an oil bottom (it can also be made with butter), when it is hot, incorporate the fillets.
Don't miss this: https://buzzrecipes.com/savory-french-toast/
Do it in a large skillet or in batches so that the fillets do not mount on top of each other. Make them on one side first, for about three minutes or until golden, turn them over and remove from the pan.
Deglaze with white wine, also add lemon juice and season to taste. Let reduce and if you want a dense sauce, add a pinch of cornstarch dissolved in water to thicken it.
Incorporate the chicken when the sauce is reduced and add the capers, turn it over, the time will be just so that it is slightly impregnated with the sauce, although if you like cooked chicken you can leave it for a few minutes in the pan lowering the heat a little.
Plated
Serve the lemon chicken breasts with the juice and capers, add a little curly parsley. You can accompany this dish with some vegetables, or as is more usual, with pasta or polenta. Bon Appetite!
Abbreviations
c / s = Soupspoon
c / p = Dessert spoon
c / c = Coffee spoon
c / n = Quantity needed
Easy Chicken Piccata
This easy chicken piccata recipe's lemon-caper sauce is an Italian classic that can be made in just 20 minutes, making it everyone's favorite dinner. Course Main CourseCuisine ItalianKeyword chicken prep Time 10 minutesCook Time 10 minutes Total Time 20 minutesServings4Calories 381 kcal
Ingredients
1 lemon
1 1/2 pounds boneless, skinless chicken breasts
1 teaspoon kosher salt
1 teaspoon freshly ground black pepper
1/3 cup all-purpose flour
3 tablespoons butter divided
2 tablespoons canola oil
1 cup chicken broth or white wine, or a combination of both
2 tablespoons capers drained and rinsed
Instructions
Slice the lemon in half, juice one half, then cut the other half into 1/8″ slices and set aside.
Trim any excess fat from the chicken breasts and slice in half lengthwise. Season both sides of the chicken breasts evenly with the kosher salt and freshly ground black pepper then dredge each breast in the flour, shaking off any excess.
Heat 2 tablespoons butter with the canola oil in a large skillet over medium-high heat. Add 4 pieces of the chicken and cook for 2-3 minutes per side. Transfer to a platter or sheet pan and cover with foil. Continue with the remaining chicken.
Reduce the heat to medium and add the chicken broth or wine (or 1/2 cup of both) the lemon juice, sliced lemons, and the capers, scraping up the browned bits on the pan and cook for 2-3 minutes.
Stir in the remaining 1 tablespoon of butter until melted. Taste for seasoning and spoon the sauce over the chicken breasts. Serve with mashed potatoes or cauliflower, polenta, or noodles.
Recipe Notes
Keep the cooked chicken breasts warm while the sauce cooks by plating on a platter and covering with aluminium foil, or place in a 200°F oven. Nutrition FactsChicken PiccataAmount Per Serving
Calories 381Calories from Fat 180%
Daily Value*Fat 20g31%
Saturated Fat 6g38%
Cholesterol 131mg44%
Sodium 1180mg51%
Potassium 724mg21%
Carbohydrates 11g4%
Fiber 1g4%
Protein 37g74%
Vitamin A 315IU6%
Vitamin C 20.5mg25%
Calcium 22mg2%
Iron 1.5mg8%
Read this: https://www.foodiecrush.com/easy-chicken-piccata/