how to cook millet! Millet, the most alkaline and tasty cereal.
It is the most alkaline cereal, along with buckwheat, which will provide us with hydrates and vitamins, especially from group B.
It is a cereal that already has a sweet flavor, is quick to prepare and when you get the hang of it, it becomes an essential in our diet.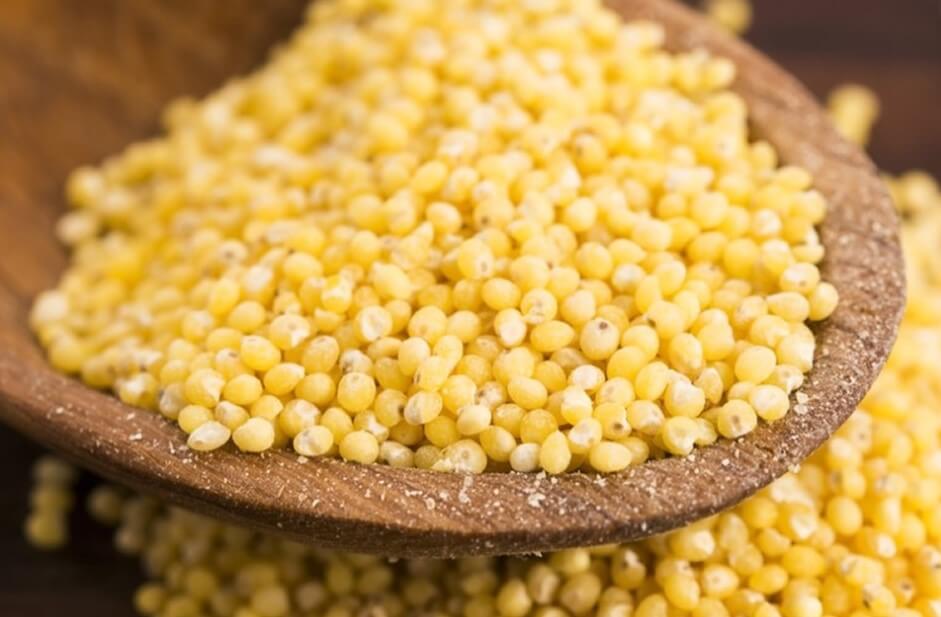 Millet can be used like rice or quinoa to make salads, with sauteed or steamed vegetables, to make porridge, desserts, etc. I tried it for the first time in Cologne in a restaurant that served it in a bowl with other raw and cooked vegetables and we loved it, that's why we ran to buy it at the supermarket. As at the beginning we did not have much idea of ​​how to prepare it, it did not convince us, but since I prepare it like this, we love it!
I can tell you about millet that it is a very interesting alternative to rice and pasta, although it may also be reminiscent of couscous or quinoa. It is a gluten-free cereal, so it is easy to digest and suitable for celiacs and intolerant to this protein present in other cereals such as wheat. It contains significant amounts of fiber, magnesium, phosphorus, iron, zinc, iodine and vitamins E and group B (B1, B2, B6 and B9).
Read also: The perfect foods to help gain muscle
Also. It is a natural source of phosphorus, an essential mineral in the formation and development of bones and teeth. It favors good intellectual and memory performance. It contains fatty acids, iron (key in the renewal of blood cells and the prevention of anemia and fatigue), zinc, iodine and vitamin E.
TIPS: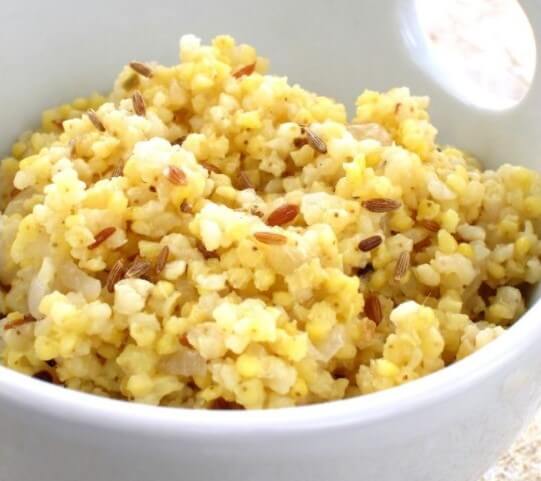 Instead of water, you can use vegetable broth to make it have a more intense flavor.
I like to add tamari, but you can also add soy sauce (it contains gluten) or sea salt.
This recipe is very basic, you can experiment by adding lemon, apple cider vinegar, spices or dried herbs while it cooks to give it even more flavor.
how to cook millet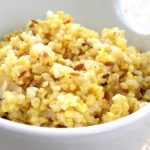 1/2  cup of millet ( 100 g )
1 1/2  cups of water ( 375 ml)
1  tablespoon tamari or soy sauce
Let the millet soak overnight or for at least 4 hours. This step is not essential, but it helps us eliminate phytic acid (which can steal nutrients from our body), makes the millet more digestive and cooks faster.

The next day strain it, wash it well and remove as much water as possible.

Toast the millet in a skillet over high heat, stirring occasionally, until it is slightly browned and begins to release its aroma.

Put it in a saucepan or pot with the water and when it starts to boil, add the tamari, lower over medium heat, cover and cook for 10 or 15 minutes (the time may vary depending on the millet you use). All the water has to be consumed and done. I recommend that if you do it for the first time, you add only 1 cup of water (250 ml) and when it has been consumed you try it and then you add the other 1/2 cup (125 ml). Not all millets are the same and the amount of water and cooking time can also vary depending on what you use to cook: glass-ceramic, fire or induction.
Cooking millet is very easy and you only need water, millet and tamari, soy sauce or salt. You can add your favorite seasonings to make it even more flavorful.
Millet with chicken and vegetables, step by step recipe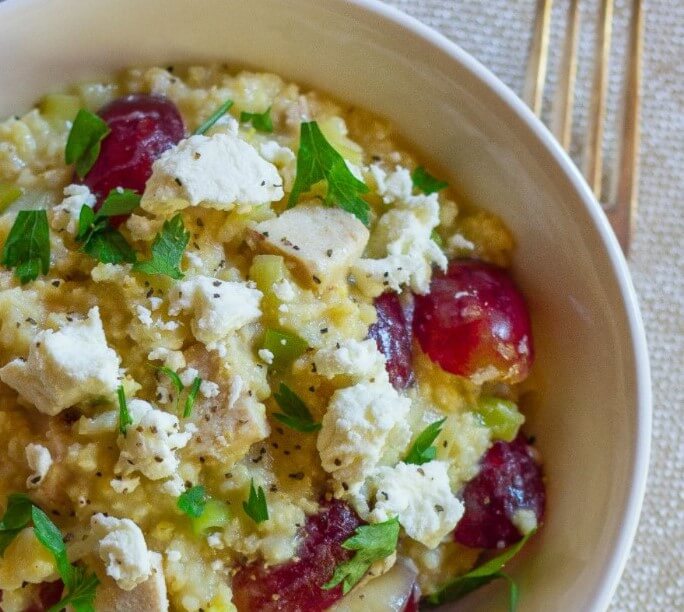 Easy recipe with detailed explanation and photos of all the steps to follow to prepare a delicious and very healthy millet with chicken and vegetables.
Preparation: 15 min
Cooking: 20 min
Difficulty: 1/5
Servings: 2 -3
Cost: <€ 4
Ingredients
Peeled millet, 1 cup
Onion, 1 small
Bell pepper, 1 small
Garlic, 1 clove
Chicken breast, 200 g
Cauliflower, 2 sprigs
Tomato, 1
Walnuts, 3 or 4
Extra virgin olive oil, 2 tablespoons
Chicken or vegetable broth, 2 cups (*)
Chives, for garnish
Salt
Continuing with the rich and healthy recipes, today I bring you this millet with chicken and vegetables, a recipe with an ingredient that, if memory serves me correctly, will debut in Kitchens with this simple recipe.
Preparation of Millet with chicken and vegetables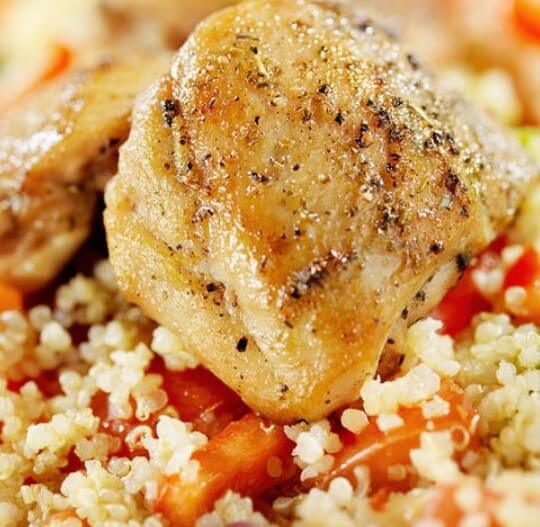 The cauliflower or nuts are dispensable and pepper can be of any other color, but this time was what was in the fridge and it was in the pot. You could have also put some carrots in the sauce, or some cubes of pumpkin or even some peas and the result would also have been great.
In a low saucepan or in a frying pan, heat the oil to fry the finely chopped onion, pepper and garlic over medium heat. When the onion begins to be transparent, add the cauliflower cut into small pieces, mix and add the diced chicken breast. Salt to taste, give a few turns and wait for the chicken pieces to brown slightly.
Add the peeled and chopped tomato, sauté it, squashing it a little with a wooden or silicone spoon to release the juice, put everything aside and add the millet that we will have previously rinsed and drained. We toast it for a couple of minutes, stirring carefully so it doesn't stick to the bottom.
Add the broth, mix everything well, wait for it to come to a boil, lower the heat to a minimum to keep it boiling and let it cook for about 20 minutes until all the broth has been absorbed.
Add the chopped walnuts and serve with the chopped fresh chives.
This millet with chicken and vegetables is a healthy recipe, low in fat, perfect as an alternative to pasta or couscous in the case of people with celiac disease.
Another thing, that you are surely going to ask me, that you can find millet in any herbalist, in many para pharmacies that have a food section and also in large supermarkets that have a section of organic and diet products. You can also find it in stores that sell fair trade products.
it may interest you: The best Quinoa and Black Beans
HAVE YOU MADE THIS RECIPE?
Please leave a comment on this post or share a photo with the Instagram or on your favorite social network, we love hearing from you!
//how to cook millet
Tags:
how to cook millet